JMW Turner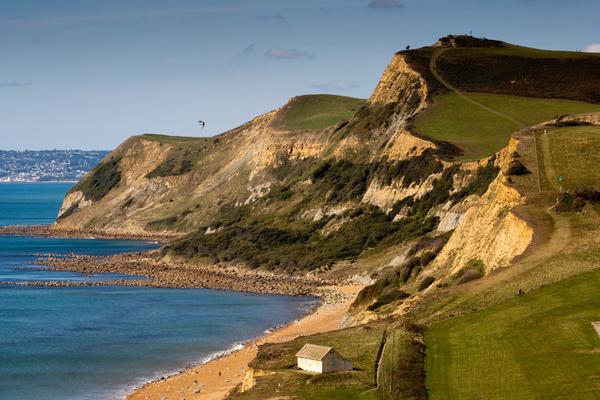 Looking towards Lyme Regis (scene of one of Turner's most famous paintings) ©Shutterstock / Martin Kemp


Joseph Mallord William Turner, to give him his full title, was one of Britain's greatest masters of British landscape watercolour painting. Known as the "Painter of Light", his Impressionist watercolours captured what he felt about a landscape, rather than what he saw, which is a good definition of the Impressionist movement.
Early Life
JMW Turner was born in 1775 in Covent Garden, London where his father was a barber and wig-maker. Turner spent some of his childhood at the home of his uncle in Brentford and he attended school in Margate for a time. It was during this time that he began to draw and paint and by the age of 13 was displaying his paintings in the window of his father's shop.
By the age of 15 his talent had been recognized and he was invited to exhibit paintings at the Royal Academy. Three years later, Turner had his own art studio.
Travels in Europe
JMW Turner's artistic development continued as he travelled to Europe in 1802. Clearly the seascapes of Venice thrilled him, with the many changing patterns of light which were caught on the water. He studied for one year at the Louvre and also visited Switzerland and France.
Although many of Turner's works were in oils, he became known as one of the founding fathers of watercolour landscape paintings.
He preferred to work and to travel solo. He often displayed his work but refused to sell them. When he finally parted with a painting he would plunge into a period of depression.
Stately Home Works
Turner was a frequent guest of George O'Brien Wyndham at Petworth House and he painted many scenes of the grounds. His work can still be seen on display there.
He was invited to paint Harewood House in 1797 and his work is part of the fabulous watercolour collection of paintings which are exhibited there. Other Turner paintings can be seen at Sudley House and at the Lady Lever Art Gallery in Merseyside.
Personal and Later Life
Turner's personal life was unusual. He lived with his father for 30 years. He never married but had two daughters by his mistress, Sarah Danby, in 1801 and 1811.
JMW Turner died in Cheyne Walk in Chelsea in 1851, at the age of 76. He was buried in St Paul's Cathedral, next to Sir Joshua Reynolds.
At the end of his productive life as an artist he had created more than 300 oil paintings and an incrediblel 20,000 watercolours and 19,000 drawings. He bequeathed his collection to the nation. The Clore Gallery was specially designed by James Stirling to house these priceless artworks at the Tate Gallery in London.
Share this article