The West Country contains the popular holiday destinations of Devon and Cornwall. They have charming coastal villages with narrow, steep, twisting streets, such as Appledore and Clovelly, beautiful sandy beaches contrasted with steep craggy cliffs, desolate Dartmoor, and the bustling seaside towns of Torbay - Torquay, Paignton and Brixham.
Somerset is known for its cider and cheese-making (Cheddar Gorge is in this county). There are also some good walking areas - the Mendip Hills, the Quantocks and the Exmoor National Park. The Exmoor National Park has a wide variety of scenery, from the steep cliffs along the coast, to the heather covered hills running parallel to the coast, and the wooded valleys of the rivers Exe and Barle.
Georgian Bath was one of the most fashionable places to visit in the 18th century, but it has a much earlier history - the Romans built Aquae Sulis, a bathing complex, here 2000 years ago. The Roman Baths were re-constructed in Victorian times, and they make a fascinating visit, with the Pump Rooms just along the street. There are many fine examples of Georgian architecture - the most famous being the perfect Royal Crescent.
There is a strong maritime tradition in Plymouth - this is where Sir Francis Drake launched his navy to defeat the Spanish Armada in 1588.
The most famous areas of Plymouth are The Hoe, the sea-front promenade which is where Sir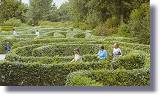 Francis Drake was playing bowls when he heard about the Spanish Invasion, the Barbican, an ancient region with Jacobean and Tudor buildings, and Smeaton's Tower, which was originally the Eddystone Lighthouse which was moved and re-constructed on the Hoe in 1882.
Other noted maritime events starting in Plymouth are the sailing of the Mayflower for America with the Pilgrim Fathers in 1620, and the start of Captain James Cook's voyage to discover a Southern continent in 1768.
There are plenty of things to see and do in the West Country, with Longleat and Bristol Zoo Gardens for animal-lovers, and Powderham Castle, Mount Edgcumbe House, Montacute House and Blaise Castle for those who enjoy stately homes.