Things To Do in Stratford-Upon-Avon, Warwickshire
---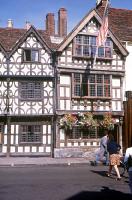 Right in the centre of Stratford-upon-Avon, in the Main Street, you'll find Harvard House with its amazing carvings on the front of the house.
It is an extremely well preserved Elizabethan townhouse, which was built in 1596 by the merchant Thomas Rogers.
For centuries it was known as "The Ancient House" but was renamed in 1909 when it was given to Harvard University in America.
The connection with Harvard University is that Thomas Rogers' grandson, John Harvard, was one of the main benefactors of the university when it was set up in 1638.
[Find out more...]
New Place was Shakespeare's last home, and although the house was destroyed by an eccentric later owner in 1759, you'll find a beautiful garden and a layout of the house as it was in 1597 when Shakespeare live there.
Next door is Nash's House which is a museum where you can learn about Shakespeare's life at New Place, and local Stratford-upon-Avon history.
[Find out more...]
No trip to Stratford-upon-Avon would be complete without visiting Shakespeare's Birthplace - the childhood home of Stratford's most famous son
Enter through the visitor centre, and enjoy displays about Shakespeare's life and work, then walk through the traditional English garden, planted with flowers and plants mentioned in Shakespeare's plays.
The house itself is made from wattle and daub.
Highlights include the room where Shakespeare was born, the glovers workshop where his father plied his trade, and a window where many famous authors have engraved their names as a mark of their respect.
[Find out more...]
There are many fascinating houses associated with William Shakespeare in the centre of Stratford-Upon-Avon, but one of the best is Hall's Croft - the former home of Susanna Hall, Shakespeare's daughter.
Susannah was married to the successful physician John Hall, and their home would have been newly built when they moved into it 1613.
John would have visited the sick of Stratford-upon-Avon in their own homes, but he would have used the medicinal herbs from the garden at Hall Croft to create his medicines.
[Find out more...]
No visit to Stratford-upon-Avon is complete without seeing a Royal Shakespeare Company production.
The RSC performs plays by Shakespeare and his contemporaries such as Christopher Marlowe as well as works by modern playwrights like David Walliams and Tim Minchin.
They perform at three theatres in Stratford - the Royal Shakespeare Theatre and the Swan Theatre by the River Avon and The Other Place.
Why not enjoy a meal before the play in the award-winning Rooftop Restaurant or Susie's Cafe Bar?
More than a million people attend a Royal Shakespeare Company performance every year - shouldn't you be one of them?
[Find out more...]
Anne Hathaway's Cottage is one of the most authentic and romantic of the Shakespearean Properties in and around Stratford-upon-Avon.
It was the childhood home of William Shakespeare's wife, Anne Hathaway.
Young William Shakespeare walked across the fields from Stratford-upon-Avon to the cottage, in Shottery, to woo Anne.
The house was owned by successive members of the Hathaway family until the Shakespeare Birthplace Trust bought the property in the late 19th Century.
Nowadays, you can enjoy the authenticity of this cottage - it is furnished with period furniture (some of which belonged to the Hathaway family), and you can see the original wall panelling and open hearth in the hall.
[Find out more...]
In the village of Wilmcote about three miles outside Stratford-upon-Avon you can visit Mary Arden's House - also known as Mary Arden's Farm.
There, you can experience what life on a Tudor farm would have been like.
There are lots of animals to meet, including many rare breeds - you can feed the goats or try your hand at herding geese.
There's also a cafe and an adventure playground, so the whole family will love Mary Arden's House.
About 3 miles away.
[Find out more...]
If you enjoy visiting stately homes, you'll love visiting Charlecote Park which dates back to the 1550s and was visited by Queen Elizabeth I.
The house sits in parkland created by England's most renowned landscape architect Capability Brown. You can even see the flock of Jacob sheep and the herds of red and fallow deer.
There's even a Shakespearean connection - the owner of Charlecote Park once prosecuted the young William Shakespeare for poaching deer!
About 4 miles away.
[Find out more...]
Less than 10 miles from Stratford lies Hidcote Manor Garden in the grounds of a 17th century manor house.
Created by Major Lawrence Johnston, work started in 1907 and took 7 years - although he continued to maintain and improve the gardens, with a team of 12 gardeners over the following 34 years.
Designed in the Arts and Crafts style, the gardens are laid out in a series of themed "rooms" such as the Topiary Garden, the Fuchsia Garden and many more.
In addition to the gardens themselves, visitors can enjoy refreshments in one of the two cafes, and see the lovely views over the Vale of Evesham.
About 7 miles away.
[Find out more...]
Stratford-Upon-Avon Tourist Information
Beautifully situated on the River Avon, Stratford-Upon-Avon has a number of attractions linked to the famous Bard.
Explore this historic market town and its surroundings and discover where Shakespeare was born and grew up, where he gained inspiration for his work, enjoyed a "few" drinks and even where he used to poach deer!
The Shakespeare Properties
There are five houses linked to Shakespeare and his family - all around Stratford-upon-Avon - where he was born, lived, worked and lies buried. In town visit Shakespeare's Birthplace. Hall's Croft where his daughter lived and Nash's House the home of his granddaughter.
In the neighbouring village of Wilmcote visit Mary Arden's House - a rambling Tudor farmhouse which belonged to Shakespeare's mother.
Anne Hathaway's Cottage nestles in the village of Shottery, on the edge of Stratford, and was the family home of Shakespeare's wife.
In Stratford Old Town by the River Avon is Holy Trinity Church - one of the most beautiful parish churches in England - where you can visit Shakespeare's grave.
An easy way to find your way around the Shakespeare Properties is to take a tour on the hop-on, hop-off tour bus.
The Royal Shakespeare Company
Shakespeare country is also special because it is home to the internationally renowned Royal Shakespeare company (RSC).
The RSC has long been recognised as the world's leading classical theatre company and its annual repertoire of productions features plays by Shakespeare, his contemporaries, other classical playwrights as well as many new plays specially commissioned by the RSC.
There are three very different RSC theatres in Stratford offering a magical mix of classical and modern drama with some of the best actors and directors in the world.
Take in an epic performance of a tragedy in the main Royal Shakespeare Theatre. Enjoy a comic masterpiece in the galleried Jacobean style Swan Theatre. Or sample a cutting-edge new play at The Other Place, the RSC's small scale studio theatre.
The Other Side to Stratford
Most famous for its literary connections, Stratford is alive with culture and history.
Superb shops, restaurants, a Friday market and floral displays complement its river setting, three theatres and wealth of other attractions.
Besides Shakespeare there is much to enjoy, from a day at Stratford Races to a guide Friday open top bus tour or boating on the River Avon.
Families are in for a treat. A children's trail links the Shire horse centre, Butterfly Farm and Teddy Bear Museum with other attractions including the famous Ragdoll shop.
Share this page