Things To Do in Shottery, Warwickshire
---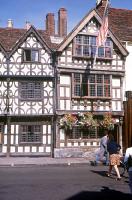 Right next to Shottery, in Main Street in the centre of Stratford-upon-Avon, you can see Harvard House, a wonderful example of how the wealthy folk lived in Elizabethan times.
It is an Elizabethan town house, with 3 floors and ornate carvings on its facade.It was built in 1596 by the wealthy merchant Thomas Rogers.
[Find out more...]
It is impossible to visit the Shakespearean properties in Stratford-upon-Avon without visiting the magnificently restored Hall's Croft.
The house was owned by Susanna Hall, Shakespeare's daughter and her husband John, who was a renowned physician.
The house was beautifully restored in 1951, and is a great example of how a prosperous Jacobean family lived.
There is a beautiful medicinal herb garden similar to the one which John Hall would have used to create his medicines when he lived there.
[Find out more...]
New Place has a fascinating history, and is well worth a visit along with its neighbour Nash's House.
New Place was owned by William Shakespeare from 1597 until his death in 1616.
The house itself was destroyed by a subsequent owner in 1759, and there is now a beautiful garden on the site which shows the outline of the house as it was in Shakespeare's time.
[Find out more...]
Shottery is within walking distance of Stratford-upon-Avon with its three venues owned by the Royal Shakespeare Company:
The Royal Shakespeare Theatre hosts productions of Shakespeare's plays, The Swan Theatre often shows plays from other playwrights from Shakespeare's time, and at The Other Place you can see plays from contemporary playwrights, many commissioned by the RSC.
[Find out more...]
If you're visiting Shottery you know you're in Shakespeare country.
And since you're only a mile or so from Stratford-upon-Avon, it makes sense to visit Shakespeare's Birthplace.
The wattle-and-daub house itself is a fascinating insight into Shakespeare's early life - you can see the room where William was born, and his father's workshop where he made gloves.
Costumed guides bring stories from Shakespeare's time to life, and actors perform well-known excerpts from his plays.
A traditional English garden has been re-created outside, and there's an informative visitor centre too.
[Find out more...]
Shottery is well known as the location of Anne Hathaway's Cottage. Anne Hathaway was William Shakespeare's wife - they married 1582.
The cottage has been owned by only the Hathaway family for hundreds of years, until it was bought by the Shakespeare Birthplace Trust in 1941.
For this reason it is a particularly authentic example of life in Elizabethan times. All of the furniture is of the correct period, and some of it was owned by the Hathaway family.
There is an authentic Old English cottage garden full of old-fashioned flowers and herbs, and next door there is an orchard with picnic area.
[Find out more...]
Mary Arden was Shakespeare's mother - and thanks to the Shakespeare Birthplace Trust her childhood home has been preserved, along with a superb re-creation of a Tudor farm complete with rare-breed animals.
When the family have finished herding geese and feeding goats, there's a cafe where you can relax before the under 10s head off to the adventure playground.
About 3 miles away.
[Find out more...]
Less than 5 miles from Shottery lies Charlecote Park - a wonderful stately home in a magnificent setting of parkland designed by Capability Brown in 1714.
Today you can follow in the footsteps of Queen Elizabeth I and Queen Victoria by touring the house, enjoy seeing the herds of deer which have been on the estate since Shakespeare's time, and enjoy miles of woodland walks.
There's so much to see at Charlecote Park, you're bound to have a great day out
About 4 miles away.
[Find out more...]
Hidcote Manor Garden is a great day out for gardeners and anyone interested in horticulture.
But you don't have to be the next Alan Titchmarsh to enjoy a day out exploring the 10 acres of Arts and Crafts style gardens.
The garden is divided into themed areas such as the Fuchsia Garden and the Topiary Garden so there's always lots to enjoy in any season. You'll have fun choosing your favourite area of the garden.
Refreshments are available from the cafes, and you can even buy some plants for your own garden from the plant shop!
About 7 miles away.
[Find out more...]
Share this page




Images of Shottery
A row of pretty cottages © Jane Elliff-Glennon
A pretty little cottage © Jane Elliff-Glennon
A thatched cottage © Jane Elliff-Glennon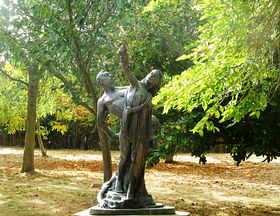 Shakespeare's Garden © Jane Elliff-Glennon