Things To Do in Weston-on-Avon, Warwickshire
---
Anne Hathaway's romantic childhood home is a great authentic example of an Elizabethan cottage.
The original wood panelling and open hearth in the living room are still there, as is the four-poster bed from Anne's time.
William Shakespeare visited the cottage to woo Anne prior to their marriage in 1582. He walked across the fields from Statford upon Avon, and you can still trace his steps today!
About 3 miles away.
[Find out more...]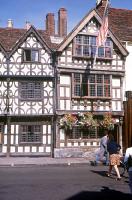 It's worth the 3 and a half mile trip from Weston-on-Avon to Stratford-upon-Avon to see all of the fabulous Elizabethan and Shakespearean properties.
One which is often over-looked is Harvard House on the Main Street.
It wasn't owned by William Shakespeare, but it was built at the same time, and is worth a look, as it is a great well-restored example of a wealthy Elizabethan merchant's house.
Don't miss the elaborate carvings on the front of the house.
About 4 miles away.
[Find out more...]
It's only three and a half miles from Weston-on-Avon to the centre of Stratford, where you will find one of the best restored Shakespearean houses in Stratford, Hall's Croft.
The house was lived in by Shakespeare's eldest daughter Susanna Hall and her physician husband John Hall.
It was bought by the Shakespeare Birthplace Trust in 1949 and was in great need of repair. It was restored using traditional tools by the Trust in time for the Festival of Britain in 1951, and is still a fine example of a prosperous Jacobean house.
About 4 miles away.
[Find out more...]
Together Nash's House and New Place give a great insight into Shakespeare's life, and the history of Stratford.
Nash's House was owned by Shakespeare's grandaughter, and New Place was the last house to be owned by William Shakespeare himself.
New Place was demolished by a later owner in 1795, but you can still get a feel for the size of the house, as the foundations of the house as it was in Shakespeare's time are laid out in the memorial garden which has been created on the site.
About 4 miles away.
[Find out more...]
Seeing a performance of a play by William Shakespeare, produced by the Royal Shakespeare Company in Stratford-upon-Avon is one of the finest cultural experiences Britain has to offer.
Every year, more than a million people travel from across the globe to attend an RSC production in one of their three theatres in Stratford.
Why not join them for an unforgettable experience?
About 4 miles away.
[Find out more...]
Nearby Stratford-upon-Avon has one of England's most famous attractions: Shakespeare's Birthplace.
Shakespeare was born in the simple wattle-and-daub house in the centre of Stratford in 1564.
His father was a glove-maker, and you can see his workshop, and the room where his son William was born.
Costumed guides will tell stories of life in that house in the 16th Century - which really brings that time to life
You may even see some of the resident actors performing some of Shakespeare's work.
Don't miss the beautiful garden planted with plants and flowers that Shakespeare loved and talked about in his plays, or the visitor centre with artefacts such as Shakespeare's First Folio published in 1623.
About 4 miles away.
[Find out more...]
Hidcote Manor Garden is 10 acres of pure delight for anyone who loves gardens.
Started in 1907 by Major Lawrence Johnston, and completed over 34 years by a team of 12 gardeners, Hidcote is a garden in the Arts and Crafts style that perfectly complements the 17th Century manor house.
The garden is divided into themed areas such as the Topiary Garden, Pillar Garden, Stilt Garden and Mrs Winthrop's Garden - created in honour of Major Johnston's mum, who bought the manor and garden for her son.
About 5 miles away.
[Find out more...]
Mary Arden grew up in the property now known as Mary Arden's House in Tudor times.
She married John Shakespeareand had a son called William - and that's why her childhood home has been preserved.
Visitors to Mary Arden's House will see an accurate re-creation of a Tudor farm, complete with geese, chickens, goats and rare-breed animals to meet.
There's an adventure playground for the under 10s, and a cafe when you need refreshments as well as falconry demonstrations to enjoy.
About 5 miles away.
[Find out more...]
Share this page