Things To Do in Mickleton, Gloucestershire
---
No gardener can fail to be inspired by a trip to Hidcote Manor Gardens.
The 10 acres of Arts and Crafts style gardens split into themed areas set a very high standard - as they should - the garden took 7 years to create and was enhanced by a team of 12 gardeners over the following 34 years!
Don't miss the superb herbaceous borders, or the wonderful views over the Vale of Evesham.
There are two cafes and a large plant shop also on site.
[Find out more...]
Anne Hathaway's cottage was owned by the Hathaway family until the late 1800s when it was bought by the Shakespeare Birthplace Trust.
It was the childhood home of Anne Hathaway, who was William Shakespeare's wife.
William visited Anne at this house, in Shottery, when he was courting her - it is only a short walk across the fields to Stratford (you can still retrace his steps today!).
Visiting the cottage is a great way to learn how a wealthy farmer lived in Elizabethan times.
About 7 miles away.
[Find out more...]
If you're visiting Straford-upon-Avon (only 7 and a half miles from Mickleton), you'll want to visit Hall's Croft, the magnificently restored Jacobean home of Shakespear's eldest daughter, Susanna.
Susanna was married to John Hall, a successful physician who would have made his medicines at the house using herbs from the walled garden.
Today you can see the house furnished as it was in Jacobean times, and there is a tranquil walled garden with examples of the medicinal herbs.
About 7 miles away.
[Find out more...]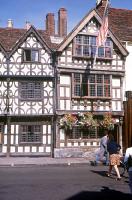 If you travel the seven and a half miles from Mickleton to Stratford-upon-Avon town centre, make sure you don't miss the ornate carvings on the front of Harvard House.
With connections to Harvard University, Harvard house was built in 1596 by the wealthy meat and corn merchant Thomas Rogers.
It is a wonderfully preserved example of how wealthy Elizabethans lived.
The grandson of Those Rogers left a bequest in his will to start a college in America which eventually became Harvard University. Harvard House is now owned by Harvard University.
About 8 miles away.
[Find out more...]
Share this page