Things To Do in Bishops Tachbrook, Warwickshire
---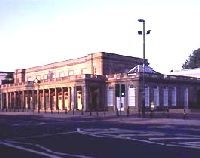 It's less than 4 miles from Bishops Tachbrook to Leamington Spa.
Opposite the Jephson Gardens, you'll find the Grade II listed Royal Pump Rooms building.
Once a major attraction for tourists seeking the health benefits of the local spring water, today tourists still visit the Royal Pump Rooms for their art gallery, local museum, cafe and visitor information centre.
About 4 miles away.
[Find out more...]
Warwick Castle is only about 4 miles from Bishops Tachbrook, and it's a great day out for the whole family.
Check out our page on Warwick Castle to see the wonderful state rooms, the amazing views, and everything else there is to enjoy when you visit.
About 4 miles away.
[Find out more...]
Only 4 miles or so from Bishops Tachbrook is Charlecote Park - a wonderful historic house dating back to the 16th Century.
Queen Elizabeth I and Queen Victoria both visited Charlecote Park, and now you can too.
You'll love the many architectural details like the Tudor chimneys and octagonal turrets with their golden weather vanes.
You can also enjoy the grounds, landscaped by Capability Brown, and miles of woodland walks.
About 4 miles away.
[Find out more...]
You'll find some of the finest Gothic architecture anywhere in England at the Collegiate Parish Church of St Mary in nearby Warwick.
Don't miss the Beauchamp Chapel and the tomb of Richard Beauchamp which are remarkable examples of medieval art and architecture.
Visit the crypt which dates back to Norman times, and climb the 134 steps of the tower for some unforgettable views across Warwickshire.
About 4 miles away.
[Find out more...]
While you're in the area, why not have a really memorable night out in Stratford-upon-Avon, and see a production by the Royal Shakespeare Company?
Even though the RSC are best known for their superb productions of Shakespeare's works, you're not limited to seeing a Shakespeare play, as they also perform plays written by his contemporaries such as Christopher Marlowe, and by present-day playwrights too.
About 8 miles away.
[Find out more...]
Why not visit Shakespeare's Birthplace - an attraction that people come from around the world to see?
As well as the 16th Century wattle-and-daub house with its stone floors and low ceilings, you'll see Shakespeare's father's glove workshop, the beautifully re-created English garden, and a visitor centre with lots of artefacts and information about Shakespeare's life.
Actors perform excerpts from the great man's plays, and costumed guides show you what life was like in that house in the 1560s when young William Shakespeare lived there.
About 8 miles away.
[Find out more...]
New Place is the house which belonged to William Shakespeare for the final few years of his life. It is said that he wrote some of his later plays, such as The Tempest, in the house.
The actual building was demolished in 1759, by a subsequent owner, but the Shakespeare Birthplace Trust who now own the land have created a memorial garden which shows the outline of the house as it was in Shakespeare's day.
Nash's House (next-door) has a Shakespearean connection as it was owned by Shakespeare's granddaughter. It is now the Stratford-upon-Avon local history museum.
About 8 miles away.
[Find out more...]
Bishops Tachbrook Tourist Information
Bishops Tachbrook is a small rural village, situated near to Royal Leamington Spa and Warwick, situated close to the M40 motorway.
The village is like any other, but is surrounded by farmland, which makes it peaceful and tranquil.
It has a church, social club, park, local shop, hair salon and flower shop. There is also a pub in the village called Revolver, this is more a fancy restaurant with extremely lovely food, if you're looking to impress this is the place to be. The only down fall for the pub is its not a country pub serving ale or pub food.
There is plenty of walk ways situated through farmers fields, so if your into walking, this is a place to go and explore.
Description by Rich
Share this page




Images of Bishops Tachbrook
View of church in the 18th century © Mervyn Roberts
William Morris window © Mervyn Roberts
South porch entrance © Mervyn Roberts