Things To Do in Admington, Warwickshire
---
Only a couple of miles from Admington you'll find Hidcote Manor Garden which was started in 1907 by horticulturalist Major Lawrence Johnson and completed over more than 40 years by the major and his team of 12 gardeners.
This beautiful English garden is laid out in a series of themed areas such as the Topiary Garden and the Fuchsia Garden, so there's lots to see in any season.
If you want to know more about the garden there are often Head Gardener Tours and talks that you can attend during the season.
About 2 miles away.
[Find out more...]
It's well worth the short drive from Admington to visit the magnificent Shakespeare properties in Stratford-upon-Avon.
One of the best restored of the properties is Hall's Croft, the former home of Shakespeare's eldest daughter.
Inside you can see the sort of furniture that was owned by a prosperous Jacobean family, and outside you can wander in the tranquil walled garden.
About 6 miles away.
[Find out more...]
While you're in Shakespeare country - why not see one of the great man's plays performed in Stratford-upon-Avon by the Royal Shakespeare Company?
A rare treat for any theatre fans, more than a million people attend an RSC production in Stratford every year.
But it's not only Shakespeare that you can enjoy - the RSC also commission and perform works by contemporary playwrights such as Tim Minchin and Hannah Khalil.
Works by Shakespeare's contemporaries Christopher Marlowe, John Webster and Ben Jonson are also regularly performed.
About 6 miles away.
[Find out more...]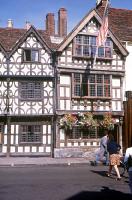 If you're visiting the Shakespeare properties in Stratford, it's worth taking a look at the beautifully carved facade of Harvard House.
This magnificent townhouse was built in 1596 by Thomas Rogers, and is a great example of how the wealthy townsfolk of Stratford-upon-Avon lived in Elizabethan times.
For centuries the house was called The Ancient House, but when it was renovated in 1909 and given to Harvard University, it was renamed Harvard House.
About 6 miles away.
[Find out more...]
New Place and Nash's House have a fascinating history.
Nash's House was owned by Shakespeare's granddaughter, Elizabeth, wife of wealthy property owner Thomas Nash. It is now a museum showing the history of Stratford-upon-Avon.
The site of New Place is just next door to Nash's House. New Place was the final home that Shakespeare lived in, before his death in 1616.
The house was destroyed in the 1700s, and there is now a beautiful memorial garden which shows the layout of Shakespeare's original house.
About 6 miles away.
[Find out more...]
Anne Hathaway was William Shakespeare's wife, and this romantic thatched cottage was her childhood home.
Anne lived here until she married Shakespeare 1582. He often walked across the fields from Stratford upon Avon to the cottage to woo her!
The cottage is now owned by the Shakespeare Birthplace Trust, and has lots of authentic features: the original wooden panelling in the living room, and the buttery and old baking oven in the kitchen.
There is lots of period furniture, including an original four poster bed which dates from Anne's time.
Outside, there is a cottage garden with old fashioned flowers and herbs, and an orchard with picnic area.
About 6 miles away.
[Find out more...]
A short trip from Admington is Stratford-upon-Avon, and its most famous attraction is Shakespeare's Birthplace.
Entry is through the visitor centre, and then through the traditional English garden now featuring plants that Shakespeare wrote about in his plays.
Inside the house you can see the room where Shakespeare was born as well as a re-creation of his father's glover's workshop.
Resident actors and costumed guides bring William's childhood and his famous works to life, making for an unforgettable experience.
About 6 miles away.
[Find out more...]
Share this page