Things To Do in Henley in Arden, Warwickshire
---
It's only a short drive from Henley in Arden to another "Arden" - Mary Arden's House in Wilmcote.
The Childhood home of Shakespeare's mother, today, the attraction is an accurate re-creation of a Tudor farm that Mary herself would probably recognise.
As well as seeing the beautiful old house, visitors can enjoy the rare-breed animals, goats, chickens and geese, see impressive falconry displays and under 10's will love the adventure playground.
About 4 miles away.
[Find out more...]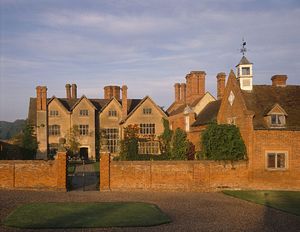 Originally built in the 16th century for John Fetherston, Packwood House has a fascinating history, from its part in the civil war, to a visit from Charles II.
Packwood had been altered in Georgian and Victorian times, but was restored by new owner Graham Baron Ash, who re-created the original Tudor interiors in the 20th century.
Highlights include the Long Gallery, and the Great Hall created from a former barn.
The house also contains a fine collection of Tudor fabrics and furniture.
About 4 miles away.
[Find out more...]
Discover the secrets of Baddesley Clinton Hall in a great day of exploration.
The moated manor house was built in medieval times, and was owned by 12 successive generations of the Ferrers family, some with some very interesting stories to tell.
Once you have seen the house, you can wander in the 100 acre estate, and view the lovely gardens and woodland walks.
Then you can enjoy a meal or snack at the Barn Restaurant, which serves locally-sourced food all day long.
About 5 miles away.
[Find out more...]
When Anne Hathaway was first getting to know William Shakespeare, Shakespeare would walk across the fields from his own home in Stratford to visit her in this cottage in Shottery.
Only just over 6 miles from Henley in Arden, it is worth visiting to see the authentic furniture and wooden wall panelling dating from Elizabethan times.
There is also a lovely old-fashioned cottage garden with the flowers and herbs that the Hathaways would have enjoyed in the 1500s.
About 6 miles away.
[Find out more...]
Not far from Henley is Stratford-upon-Avon, and an attraction that draws people from around the world: Shakespeare's Birthplace.
With its low ceilings, original stone floors and wattle-and-daub construction, the house is full of atmosphere - even before the costumed guides bring stories from Shakespeare's time to life.
You can also see Shakespeare's father's glove-making workshop, the traditional English garden outside planted with flowers that William wrote about in his plays, and the visitor centre with lots of information and artefacts from the great man's life.
About 6 miles away.
[Find out more...]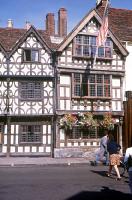 Known for centuries as the Ancient House, Harvard House was renamed when it was restored and donated to Harvard University in 1909.
The house was built in 1596 by Thomas Rogers, and exists as a wonderfully preserved Elizabethan townhouse.
The connection with Harvard University is that Thomas Rogers' grandson, John Harvard, was main beneficiary of the university. John Harvard left 750 pounds to set up the university in his will when he died in 1638.
About 7 miles away.
[Find out more...]
New Place was the house that Shakespeare owned from 1597 until his death in 1616.
The house was demolished in 1759 by a later owner (there is an interesting story about that!), so now you can find the Shakespeare memorial garden on the site, with an outline of the house as it was in Shakespeare's day.
Nash's House, next door, belonged to Shakespeare's grandaughter and is now a local history museum.
About 7 miles away.
[Find out more...]
The home of Shakespeare's daughter, Susanna Hall, Hall's Croft is a beautifully restored half-timbered Jacobean house.
The house was bought by the Shakespeare Birthplace Trust in 1949, and restored as part of the Festival of Britain in 1951.
Today it is a brilliant example of a prosperous Jacobean house, with a lovely walled garden similar to the one that Susanna's physician husband would have used to grow herbs for his medicines.
About 7 miles away.
[Find out more...]
The Royal Shakespeare Company have three theatres in nearby Stratford-upon-Avon where they perform some of Shakespeare's masterpieces, as well as works by contemporaries of the Bard such as Thomas Middleton and John Webster.
At The Other Place the RSC perform more modern plays by contemporary writers such as Juliet Gilkes Romero or Hannah Khalil.
Whatever you choose to go and see, you're assured of a superb production, and memorable performances from some of the finest actors in the country.
About 7 miles away.
[Find out more...]
Henley in Arden Tourist Information
Do you want to eat or have a drink at a 16th-century coaching inn or in a 15th-century timber-framed building? Then, come to Henley-in-Arden!
Would you like to walk in the beautiful Warwickshire countryside where a 12th-century motte and bailey castle used to be? Then Henley is the place for you.
How about walking the one mile picturesque High Street where you will find shops, antiques, restaurants, wine bars, pubs, coffee bars and all the time be surrounded by buildings covering every period in history going back to medieval times?
There you will also find the famous Henley Ice Cream Parlour, our Heritage Centre and the 1448 St. John the Baptist Church.
A few minutes walk away into adjoining Beaudesert Parish you can visit the 1170 St. Nicholas Church.
Or you may wish to stay at one of our local hotels and to experience the nearby Stratford-on-Avon theatre or Warwick Castle.
Or you may wish to do business in Birmingham, Coventry or visit the National Exhibition Centre.
Of course, you may just wish to relax and read a book or use one of our two Golf Clubs or play tennis. Everything is possible in Henley-in-Arden.
You will find us on the A3400 in Warwickshire 8 miles north of Stratford-upon-Avon, William Shakespeare's birthplace.
The Henley-in-Arden railway station provides links to Birmingham and Stratford-upon-Avon. The M42 and M40 motorways are only minutes away.
Looking forward to meeting you in Henley-in-Arden where medieval history and architecture live together in the 21st century.
Description by George Matheou
Share this page