©NTPL/Derry Robinson
Those in need of an antidote to the busy Birmingham suburbs will find a full day of relaxing activities amidst the Clent Hills. More than just a pleasant walk and panoramic views across the Cotswolds, a visit to the Clent Hills offers standing stones, wildlife walks, beech woodlands and an old mill house beside a running stream.
Clent Hills are just north of Bromsgrove and its 400 acres have miles of marked footpaths and bridlepaths linking established woodland with the higher heath which rises to over 1,000 feet. Leaflets are available from Nimmings Wood car park to help visitors plan their route.
Standing Stones
The taxing uphill walk to the standing stones is well worth the effort as it offers panoramic views in all directions of the Shropshire hills, Welsh borders and rolling Cotswolds. Along the path walkers will come to a topograph at a scenic viewpoint which indicates the sights such as Wenlock Edge and the Malvern Hills.
The summit is marked by four standing stones which look "as old as the hills" but are actually an 18th century folly. Lord Lyttelton owned the land at that time as part of the Hagley Hall Estate and decided to enhance the view and impress his guests by adding the imitation standing stones and they are now a part of the local landscape.
A quiet area off the beaten track is Walton Hill which has a wildlife hide for watching breeding birds and other native inhabitants.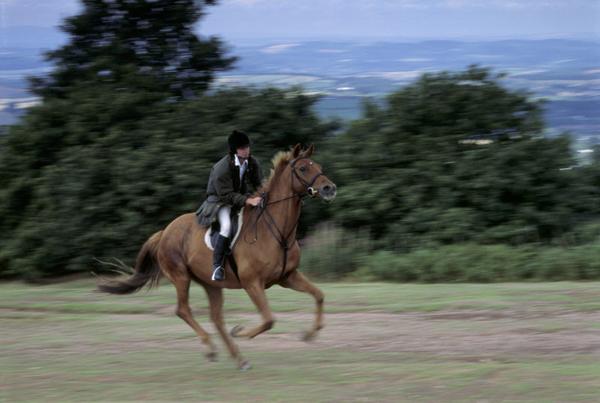 ©NTPL/David Noton
Horse Riding Trails
Those fortunate enough to own a horse in the area can download a horse riding trail which extends for five miles of woodland tracks and wide open spaces. Others may enjoy their own solitary companionship on a walk, and it is a dog-walker's paradise, although all dogs must be kept on a leash.
Some of the highlights of the area are the Dark Pool and the Deep Wood. This area has been set aside as an arboretum where exotic species such as the Monkey Puzzle tree can be spotted. Volunteers have cleared out the scrub to allow large specimen trees to flourish and in the spring the area is carpeted with a blue haze of bluebells.
There is a still Dark Pool which reflects the surrounding trees and is a particularly lovely picture when the autumn foliage is reflected in it. A wooden bridge spans the pool.
Close by is an area of open grassland, which is how Clent would have been when it was used as grazing land. Through careful National Trust management, natural plants such as sheep sorrel, heath bedstraw and bilberry shrubs are creeping back and are welcomed by Willow Warblers, Linnets, Small Copper butterflies and bumble bees.
©NTPL/David Noton
Horse's Mane
The Horse's Mane is a mature beech woodland which covers a hill ridge and can be seen for miles around. You are likely to hear woodpeckers and nuthatches in this shady beech hanger.
One final manmade landmark to look for is the Sling Pool which was once part of the industrial operation of the mill house. It is now a lovely spot for a picnic beside the stream.
The café at Nimmings Wood car park is a good alternative for refreshments and offers plenty of sustenance at the start or end of your walk.
Share this article




Directions
By Bus:
Bus stop 20 minutes walk from Nimmings Wood car park, up a steep hill, on bus route 192 between Birmingham, Halesowen, Hagley and Kidderminster. Alight at Hagley.

Bus stop ½ mile from Clent village, on bus route 318 between Stourbridge, Hagley and Bromsgrove.

By Train:
Hagley 3½ miles, Stourbridge Town 5 miles and Bromsgrove 10 miles.

By Road:
The Clent Hills are located between the villages of Clent and Romsley. They are signposted off the A491, southeast of Hagley, 6 miles from J4 of the M5.

Please note, for sat navs please enter B62 0NL as the address given as a contact is located in Waseley Hills and not Clent Hills.

Ordnance Survey maps:
Explorer 219
Landranger 139
Clent Hills Postcode for SatNav: B62 0NL
Contact
Tel:

+44 (0)1562 712 822

Email:

Web:







between Hagley and Bromsgrove
North Worcestershire
B62 0NL