Things To Do in Warwick, Warwickshire
---
At the heart of Warwick you'll find Warwick Castle which has stood on the site for more than a thousand years.
Now one of Britain's most popular visitor attractions, Warwick Castle is a great day out where you can explore the ramparts, see the Medieval Trebuchet in action, enjoy falconry displays and lots more.
[Find out more...]
While you're in Warwick, don't miss seeing the Collegiate Parish Church of St Mary - one of the town's most famous landmarks, and a beautiful example of gothic architecture.
When you visit, make sure to see the tomb of Richard Beauchamp - widely regarded as a masterpiece of medieval art.
[Find out more...]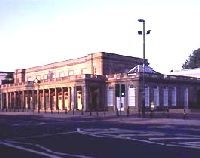 Visit the Royal Pump Rooms in nearby Leamington Spa.
Originally home to the spa baths that made Leamington famous, the Royal Pump Rooms now contain a museum and art gallery, library, a cafe and assembly rooms making this a popular venue for local cultural events.
About 2 miles away.
[Find out more...]
About 5 miles from Warwick you'll find the lovely historic house of Charlecote Park.
The house dates from the 16th century and has a fascinating history - a young William Shakespeare was caught poaching deer on the estate!
Visitors can also explore miles of woodland walks, the stunning Capability Brown landscaped gardens and see the herds of fallow and red deer.
About 5 miles away.
[Find out more...]
One of England's largest castle ruins, Kenilworth Castle is where Robert Dudley, Earl of Leicester entertained Elizabeth I in style.
As you admire the Great Hall, imagine some of the most famous figures in English history have dined here, including Henry VIII.
No wonder Simon Schama described Kenilworth as a historian's dream.
About 5 miles away.
[Find out more...]
It's well worth making the 6 or so mile journey from Warwick to visit Baddesley Clinton Hall.
This is a fairytale medieval manor house that has many hidden secrets and stories to tell.
The estate covers 100 acres and there are ponds, a walled garden, lakeside walks and a nature trail to explore.
Once you've visited the house and gardens, you can relax in the Barn Restaurant which offers meals and snacks throughout the day.
About 7 miles away.
[Find out more...]
It's less than 10 miles from Warwick to Stratford-upon-Avon - always a good place for a day out.
While you're there, it's worth visiting Shakespeare's Birthplace to see where England's most famous playwright was born and spent his childhood.
Shakespeare's father worked from their home making gloves, and his workshop has been faithfully re-created.
You'll also see the room where Shakespeare was born, and the traditional English garden where he played as a child - now planted with the plants and flowers that he featured in his famous plays.
Costumed guides tell stories from Shakespeare's family life, and resident actors will perform extracts from his work - they even take requests.
About 8 miles away.
[Find out more...]
The Royal Shakespeare Company creates unforgettable productions of William Shakespeare's plays in three theatres in Stratford-upon-Avon.
Whether you're a big fan of the bard's work - or you're just wondering what all the fuss is about, you owe it to yourself to see one of the RSC's productions for yourself.
The RSC also produces plays by Shakespeare's contemporaries such as Thomas Dekker and Christopher Marlowe, and commissions original plays by contemporary writers like Tim Minchin and Juliet Gilkes Romero.
If you'd like a bite to eat before the performance starts, there's a Rooftop Restaurant overlooking the River Avon.
About 8 miles away.
[Find out more...]
Shakespeare's grandaughter (who was married to wealthy property owner Thomas Nash) lived in Nash's House and William Shakespeare lived in New Place for the final years of his life.
New Place was destroyed in 1795, but in it's place you can find a beautiful memorial garden which includes the outline of Shakespeare's house. Nash's House is now a local history museum that you can see when you visit the New Place garden.
About 8 miles away.
[Find out more...]
Warwick Tourist Information
Thousands of visitors flock to Warwick every year to visit the magnificent medieval castle - one of Britain's most popular attractions.
But the historic town itself has more to offer and is well worth exploring. Here you can browse in antique, china and gift
shops and visit a number of museums including the Doll Museum. St. John's, the Market Hall Museum and Lord Leycester Hospital - Warwick's 600 year old medieval treasure.
For refreshment, there are some good pubs, fine restaurants and plenty of tea rooms.
Share this page