Things to do in South Cove, Suffolk
St. Lawrence Church © Peggy Cannell
South Cove is a small village on the B1127 road between the villages of Wrentham and Reydon and close to the town of Southwold.
The pretty thatched church of St. Lawrence is situated by the side of the road, it is well cared for and popular with visitors.
Church Farm with some thatched buildings is opposite the church.
One of the by-roads off the B1127 leads to the village of Frostenden. The other one leads to Cove Bottom; at one time this was the heart of the village, with several farms, a brick makers and cottages scattered around to house the workers. It was a busy close-knit little village, but sadly much has disappeared and although it is now very quiet there is holiday accommodation available in one of the cottages, making it ideal for a retreat.
Continuing along this by-road it meets up again with the B1127 near Potters Bridge, which is prone to flooding during heavy rain. Nevertheless in dry weather there is a footpath along side of the marshes leading to the village of Covehithe which is a nice secluded little village and very popular with walkers.
Description by Peggy Cannell
Share this page




Images of South Cove
A Four Crossways on minor roads © Peggy Cannell
Farm, opposit the church © Peggy Cannell
A converted barn © Peggy Cannell
Cottages in the village © Peggy Cannell
Five Bells Public House © Peggy Cannell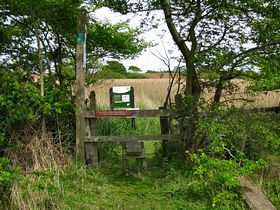 Footpath by the marshes leading to Covehithe © Peggy Cannell