Things to do in Sandy, Bedfordshire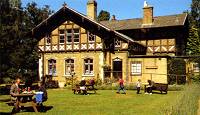 For centuries Sandy was the centre for market gardening and it still remains vital to the town today. Excavations indicate that Sandy was once a Roman settlement, and other findings of pottery highlight possible earlier iron age settlements as early as 7th century BC. Both the British Museum and Bedford Museum have exhibitions displaying some of the findings, including coins, pottery, stone sculptures, religious figurines and urns.
The 14th century Church is dedicated to St. Swithun, the stained glass and carvings are noted features. Within the Church is a marble statue of Sir William Peel, who is known to have thrown a live shell back at the Russians during the Crimea War; he was one of the first recipients of the Victoria Cross.
Off the Sandy to Potton Road is The Lodge, a mansion built in 1870 by London architect Henry Clutton in Tudor style for Arthur Wellesley Peel the youngest son of Sir Robert Peel, the Tory Prime Minister and founder of the police force. Today the Lodge is the national headquarters of the Royal Society for the Protection of Birds (RSPB).
Share this page