Things to do in Preston, Dorset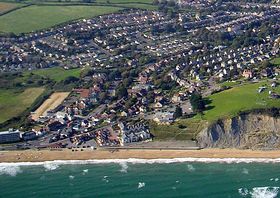 Aerial view of Preston and Overcombe © Martin Hill
Preston is a large, quiet residential suburb of Weymouth just over 2 miles east of the town centre. Although part of Weymouth it retains its village feel and still includes farmland. There are also a number of thatched cottages among the more modern dwellings.
Within the parish boundary are the remains of a Roman Temple above Bowleaze Cove and a Stone-Age hill fort.
It has its own beach area at Overcombe that is a lot less crowded than the main beach in Weymouth.
Preston lies in a lovely valley between the Ridgeway and the Jurassic Coast. The River Jordan and Preston Brook flow through Preston to the sea.
It has a beautiful old 14th century parish church of St. Andrews, several convenience stores, schools, pubs and other small shops. There are three large holiday parks with camping facilities, and a small number of B&Bs.
It is an ideal holiday destination as the attractions of the old port of Weymouth are on the doorstep, yet traffic and parking are a lot easier.
Description by Martin Hill
Share this page