Things To Do in Chadshunt, Warwickshire
---
Whether you like exploring historic houses for their lavish interiors, or you love to walk in the acres of grounds and woodlands, Charlecote Park has something for you.
You can also visit the Victorian outbuildings including an excellent collection of horse-drawn carriages in the coach house
Charlecote Park was built in the 1550s and has many stories to tell - including Royal visits, and an early encounter with Britain's most famous playwright.
Discover them for yourself when you visit.
About 6 miles away.
[Find out more...]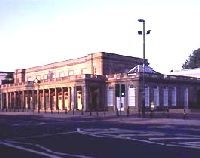 The Royal Pump Rooms - part of the fashion for spa bathing that made Leamington Spa famous in the 1800s, are still open to visitors today.
Unfortunately you can't bathe in the spring water any more - but tourists still visit the Royal Pump Rooms for the local museum, art gallery, and cafe.
About 8 miles away.
[Find out more...]
Why not visit Warwick Castle, and enjoy a day in one of Britain's most historic medieval castles?
As well as the towers and battlements you might expect, there are luxurious state rooms (including a re-creation of a Victorian weekend party), wonderful demonstrations of the medieval art of Falconry, a working Trebuchet and lots more.
About 9 miles away.
[Find out more...]
If you love music, why not visit the Collegiate Parish Church of St Mary on a Wednesday or Friday at 5:30 and experience Evensong sung by the church's reknowned choir?
While you're there, don't miss the Beauchamp Chapel and the tomb of Richard Beauchamp - said to be one of the most lavish family chapels in England, or climb the tower and enjoy the amazing views.
About 9 miles away.
[Find out more...]
If you've ever seen a Shakespeare play produced by the Royal Shakespeare Company then you'll probably want to visit nearby Stratford-upon-Avon and repeat the experience.
And if you've never had the pleasure - then why not visit the Royal Shakespeare Theatre by the River Avon, and see a Shakespeare Play brought to life by the RSC?
You can visit Susie's Cafe Bar or the Rooftop Restaurant for something to eat before the play begins.
If Shakespeare's not your thing, the RSC offer works by modern playwrights at The Other Place, also in Stratford-upon-Avon.
About 9 miles away.
[Find out more...]
Share this page