Things to do in Upper Boddington, Northamptonshire
'The Boddingtons' - are one village comprising of Upper and Lower Boddington. Together they are very quiet and very rural. If you want lots of walking and easy access to nearby Cotswold Towns, then Boddington is perfect. The Carpenters Arms pub at Lower Boddington has fantastic and award winning food and ales.
The best of Boddington is when the village hold a community event, such as the Christmas Ball, The Rural Markets or The Olde Vintage Ploughing display. Boddington is one of the UK's best kept little secrets.
Description by Kirsty New
Share this page




Images of Upper Boddington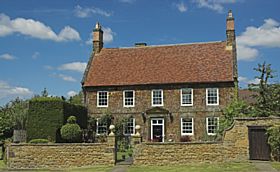 Manor House, Upper Boddington © Simon Harding
Boddington Vintage Association Show © Simon Harding
St John the Baptist Church, Upper Boddington © Simon Harding