Things to do in Belton, Norfolk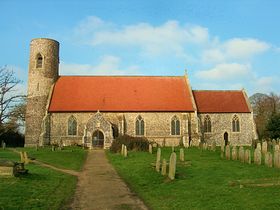 Belton Church © Peggy Cannell
Belton is a beautiful village on the outskirts of Gorleston-on-Sea.
It's a great place for lovers of the outdoors, walkers and those interested in history and architecture.
A short walk away and you'll be at the Norfolk Broads, riverside pubs and ruins of an old castle.
Rumour has it that a local windmill is haunted, yet while many a local teenager has headed out to it in the hope of catching the ghost in action, the claim cannot, as yet, be verified.
Using the excellent transport connections you can go a short distance to Gorleston and Great Yarmouth for the Pleasure Beach and Arcades.
For the less energetic or those after a relaxing time you can drive to Fritton - a little Village about 3miles away, to see Falconry Displays, go fishing or have a relaxing walk in Beautiful British Countryside.
Other Attractions surrounding Belton include Redwings Horse Sanctuary, Caldicott Hall for Golf and Somerleyton Hall.
Description by C Harvey
Share this page




Images of Belton
The Village Sign © Peggy Cannell
The Kings Head Public House. © Peggy Cannell