Things to do in Somerleyton, Suffolk
The Village Sign on the Green © Peggy Cannell
The magnificent Hall at Somerleyton should not be missed when visiting this pretty village. The extensive grounds, gardens, and the Hall are all open to the general public on certain days. Regular events are held both in the gardens and the Hall itself, including weddings. Then there is the fun of the challenge in trying to find your way around the famous 'maze'.
A short distance from the Hall is the large village green, on which stands the old pump dating back to 1859, the green is edged with diverse thatched houses, many more can be seen around the village.
The little Post Office also acts as a grocery store plus tea-room. There is one Public House namely 'The Dukes Head' where a nice meal can be enjoyed before a stroll to the Marina, where there are seats available to sit, relax and view the yachts on the River Waveney.
St. Mary's Church is well worth a visit. The Lowestoft-Norwich Railway serves the village, stopping at the little unmanned station on some journeys but not all.
Description by Peggy Cannell
Share this page




Images of Somerleyton
St.Mary's Church © Peggy Cannell
1859 Pump on the Village Green © Peggy Cannell
At the Marina © Peggy Cannell
The pond in the village © Peggy Cannell
The Railway Station © Peggy Cannell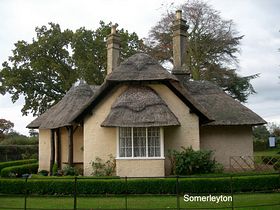 One of the numerous pretty thatched cottages © Peggy Cannell