Things to do in Alfriston, East Sussex
| | |
| --- | --- |
| Alfriston Clergy House, first building owned by the National Trust © Diana Hitchin | East Sussex |
Alfriston lies in the Cuckmere Valley and is the epitome of an English Village. There are a variety of shops in the village including an authentic Village Shop, several good coffee shops and various pubs.
Alfriston Clergy House was the first building to be owned by the National Trust and is well worth a visit. It is open from Spring through to Autumn, although the shop is sometimes open at other times of the year. The Parish Church of St. Andrews is the venue for many concerts throughout the year, and the green in front of the church is used for fetes and open air plays.
The surrounding countryside is very beautiful and it is possible to walk along the banks of the Cuckmere River from Alfriston down to the Coast.
Description by Diana Hitchin
Share this page




Images of Alfriston
Alfriston Parish Church and The Clergy House © Diana Hitchin
Alfriston Church and the Clergy House © Diana Hitchin
Garden of Alfriston Clergy House © Diana Hitchin
Garden of Alfriston Clergy House © Diana Hitchin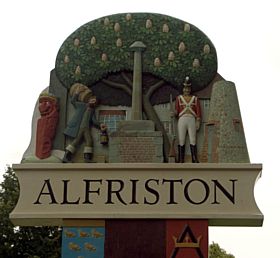 Front of Alfriston Village Sign © Diana Hitchin
Back of Alfriston Village Sign © Diana Hitchin