Bentley Wildfowl & Motor Museum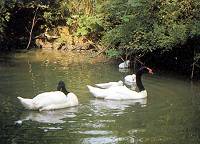 The Wildfowl
The renowned waterfowl collection was started by the late Gerald Askew in the 1960's and soon became the largest private collection in the UK. Over 1000 swans, geese and ducks from all over the world roam freely in a beautiful 23 acre parkland setting. You can see every kind of swan in the world at Bentley and over 115 species of waterfowl, all at close quarters. Conservation and breeding of endangered species are the main aims of keeping wildfowl in captivity and you will see eleven of the seventeen species that are threatened with extinction here at Bentley.
The Gardens
The formal gardens at Bentley have been created as a series of 'rooms' divided by yew hedges, one room leading into the next - a reflection of the house. There is a white garden, a blue garden and a garden devoted partly to old varieties of roses - The Bourbons, the Gallicas and the Damasks. To get right away from it all, take a walk through Glyndebourne Wood, a mixture of conifers and broad-leaved trees interspersed with sunny glades which are carpeted with bluebells in May. A new trail with interactive boards makes learning about wildlife and woodland management fun.
The House
If you are interested in architecture, interior design or just like to browse, this house is fascinating. Originally a modest 17th century farmhouse it has been converted into a Palladian-style mansion by the famous architect Raymond Erith who restored 10,11 and 12 Downing Street. The House is famous not only for its fine collection of furniture and paintings, but also for the Chinese room and the Philip Rickman Gallery containing a collection of over 150 watercolours of wildfowl by the celebrated Sussex artist.
The Motor Museum
Marvel at the superb collection of gleaming Veteran, Edwardian and Vintage cars and Motorcycles in our motor museum. All are privately owned and many are used on the road. The collection is therefore constantly changing. Several cars take part in the annual
London
-
Brighton
run. The collection include many rare and unique vehicles in pristine condition.
The adventure playground provides hours of fun for the children and the miniature trains will be steaming every weekend from Easter to September, plus Bank Holidays and Wednesdays in August. The Woodland trail and displays have been designed especially for children.
There is plenty of room to picnic on the Estate, but can you resist the gorgeous home-made cakes which are the speciality of the Tea-rooms? Light lunches and cream teas are also on offer to tempt you.
The extended shop now includes the Guild of Sussex Craftsmen whose work provide a wide range of gifts that are ideal for all occasions.
Share this article




Directions
7 miles N.E.Lewes signposted of the A22, A26 & B2192
Bentley Wildfowl & Motor Museum Postcode for SatNav: BN8 5AF
Contact
Tel:

+44 (0)1825 840 573

Fax:

+44 (0)1825 841 322

Email:

Web: