The Guildhall is an integral part of York's history. It is built on the site of an earlier guildhall or 'common Hall' which is referred to in a charter of Henry III of 1256. Building work on the present Guildhall began in 1445 and the accounts still survive. The cost of a boatload of stone from Cawood (10 shillings and 3 pence) was given to the workmen for drink when the foundations were laid. A council meeting was recorded there in May 1459.
The building received a direct hit from an incendiary bomb on 29th April 1942. The stone shell of the building and the remains of the bomb remained standing as
a grim reminder until 1956 when restoration work was started. The Guildhall was re-opened by Queen Elizabeth , the Queen Mother on 21st June 1960.
Inside the hall, looking up are a number of amusing roof bosses depicting grotesque faces and animals. The West window, part of the 1960 restoration illustrates many spheres of York life, there is also a wrought iron balustrade a gift from York's twin city, Munster in Germany.
Upstairs is the city's Victorian Council Chamber constructed between 1889 and 1891, a fine panelled room with original furniture. The walls still richly glowing in green and red with crowns and lions rampant gleaming gold after more than 100 years.
The Guildhall was also used as a Court of Justice. The persecution of Catholics during the time of Queen Elizabeth I led to the trial of Margaret Clitherow there in 1586 at the City Assizes. Articles for conducting Mass had been found in a secret room adjoining her house in the Shambles. She subsequently suffered the horrible death reserved for those who refused to accept the jurisdiction of the court, she was pressed to death at the toll booth on Ouse Bridge. She was canonised in 1970.
At the time of the Civil War, the £200,000 payment to the Scots for their aid to the Parliamentary forces is traditionally supposed to have been counted in the 'inner or Justice Room' in 1647. The sum was divided and paid over at Northallerton and Newcastle and Charles I was handed over, his execution took place in London in 1649
The Guildhall is the hub of City of York Council and has been serving both the Council and York citizens for over five and a half centuries.
Share this article




More Pictures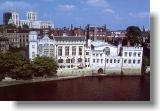 Directions
In the centre of the City, close to the Minster, Mansion House and Betty's Restaurant. Visitors are advised to use one of York's four park and ride routes into the City.
York Guildhall Postcode for SatNav: YO1 9QN
Contact
Tel:

+44 (0)1904 551 010

Web: