Things to do in Ousby, Cumbria
Ousby © Rod Morris
The sprawling Cumbrian Parish of Ousby lies in the North East of the County some ten miles to the East of the market town of Penrith and on the edge of an 'Area of Outstanding Natural Beauty' that has remained largely unaltered for generations.
The 1930s travel writer Arthur Mee wrote "Above it towers Thack Moor, rising steeply from a stream flowing swiftly under the trees, and hereabouts on the road to Crewgarth are some slight green mounds marking an earthwork used either as a fortress or as an enclosure for cattle." It should be noted that it is actually Cross Fell that towers over Ousby - at 893 metres it is the highest peak in the whole Pennine Range. Although located in an overwhelmingly sheep rearing area, Ousby remains very firmly on the cattle-breeding map with the local 'Limousin' herd providing National Champions and record-breaking figures at auction.
The name of the village was derived from the Viking name 'Ulff' and was first recorded in the 12th Century as 'Uluesby'. The houses, farms, public house and church are stone built to resist the ravages of the ferocious 'Helm Wind' that occurs two or three times a year between September and May - the only wind in the United Kingdom to actually merit a name of its own.
The 13th Century Church of St. Luke stands a little way out of the village and contains a very rare, 700-year-old wooden carving of what at first appears to be a Crusader with tunic, armour, dagger and his feet resting on a faithful hound. It transpires however that the Crusader or Templar options have been discarded in favour of the more homegrown candidates Adam Armstrong or maybe Julian Falcard and the Clan Armstrong Society maintain a close interest in the figure.
The Great War and Second World War Rolls of Honour are to be found side by side with twelve names on the former and thirteen on the latter. The inscription on the older memorial reads:
THE ROLL OF HONOUR OF OUSBY PARISH 1914-1918
Fisher E
Ivison R
Davidson GW
Frith RH
Crowther O
Braithwaite FJ
Ivison AH
Chambers H
Mounsey J
Varty TW
Butterworth JAF
Armstrong TW
Set in the south wall of St Luke's is a stained glass window bearing the following inscription:
PRO PATRIA

ERECTED BY THE PARISHIONERS IN GRATEFUL RECOGNITION
OF THE MERCY OF GOD WHO IN HIS DIVINE GOODNESS
AFFORDED HIS PROTECTION TO ALL THE MEN WHO WENT FROM
THIS PARISH TO THE GREAT WAR 1914-1918
AND SAFELY RESTORED THEM TO THEIR HOMES
We do not know the individual experiences of Ousby's 'gallant dozen' but ninety years on from the end of hostilities the small Cumbrian community remains proud of their forefathers' brave contribution and most grateful in the knowledge that theirs is a 'Thankful Village'.
Description by Rod Morris
Share this page




Images of Ousby
St Luke's Church © Rod Morris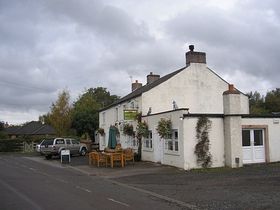 The Fox Inn © Rod Morris
Thankful Village Memorial Window © Rod Morris
Cottages © Rod Morris