Things to do in Croyde, Devon
Coming into Croyde © Mel
Croyde, North Devon, England, is a magical place with three fantastic sandy beaches to choose from. The village is steeped in old-world charm, and echos the feeling of life in Britain in the 1930s and 40s, when things were easy going.
Nowadays there has been a great input to the area by the young surfing community and walkers. All this has upgraded the area without spoiling its traditional ambiance.
Today you can stay and eat in a huge variety of establishments in the area, and take part or keep to yourself in many outdoor activities.
Croyde and North Devon has become the place to discover. Also very near are Woolacombe sands which links to Putsborough and Georgeham and the village of Braunton.
The local Weather is something of an anomaly, even if it is overcast or rainy in Barnstaple it can be sunny in Croyde, the weather cuts fine across the top corner of the coast, check it out! Don't be put off by the regional forecast!
Description by Frank Adey
Share this page




Images of Croyde
Croyde Beach © Mel
Overlooking Croyde Bay © Mel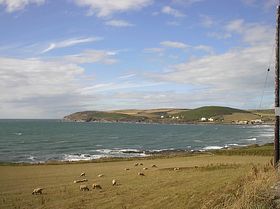 Croyde © Mel