Things to do in Appleby, Lincolnshire
Church of St. Bartholomew, Appleby (c)D H Wright via Flickr.
The idyllic village of Appleby in Lincolnshire stands on the historic Roman road of Ermine Street, about 3 miles northeast of Scunthorpe. Historians have discovered that the Romans made pottery in this area.
The name "Appleby" is known to be an old Scandinavian name for a farmstead where apples grew. Records in 1130 show the settlement with a slightly different spelling of "Aplebi".
The village lies close to the Old River Ancholme. Just one mile south of Appleby, where the Priory of Augustine once proudly stood. It was founded by King Stephen in the early 12th century and was dissolved under Henry VIII's Dissolution of the Monasteries in 1538. All that remains are a few traces of the foundations.
The local parish church is dedicated to St. Bartholomew. It was rebuilt in 1838, although the registers go back to 1576. The nave has 13th century arcades and the tower with its striking clock was built in the same era.
Standing in a walled churchyard, the church has a traditional square tower and is built in a crucifix footprint. The ancient parish covers just over 6,000 acres and includes the hamlets of High Santon, Low Santon and Raventhorpe.
One of the most famous residents of Appleby was the composer Thomas Dunhill. His remains are buried in St Bartholomew's churchyard under a headstone engraved with his name and the inscription "Maker of Music"
By 1850, the village had its own parish school. It was built by Charles Winn and had 100 students.
Appleby also had a slag works in the late 1800s and the materials were used for road building.
Present Day Appleby
Appleby is like a delightful village-in-miniature with a range of charming cottages that look like models for Lilliput Lane pottery!
It has a population of around 600 people and has changed very little since the mid-19th century. Surrounded by agriculture, the village has a beautiful church. There are many 18th century stone cottages and 19th century estate cottages along with a whitewashed cottage with a thatched roof.
The village has its own Village Hall, formerly the school, which is used for a wide range of local events and clubs.
The community spirit in Appleby is very strong and one example of this is the team of Litter Pickers who clear the verges around the village of discarded litter. This includes 110 tyres, gas cylinders, TVs and a range of other large items thoughtlessly dumped to spoil the beautiful rural countryside.
Things to Do in Appleby
Appleby Village is a good starting point for exploring this rural area, which is full of history.There are miles of sandy beaches along the east Lincolnshire coast, which are ideal for walks, building sandcastles and paddling on a warm day.
Golfers can visit the 18-hole Ashby Decoy Golf Club nearby.
Scawby Gardens near Brigg was laid out as a walled kitchen garden in early Victorian times and covers three acres. Guided tours are also available of Scawby Hall and refreshments are served in St. Hybald's Church next door.
All the family will enjoy the Julian's Bower turf-cut maze at Alkborough. This 12-metre wide circular maze stands on the hillside above the River Ouse. Abraham de la Pryme recorded it in 1697, but no-one knows who originally created it.
Share this page




Images of Appleby
Appleby Level Crossing (c) DH Wright via Wikimedia Commons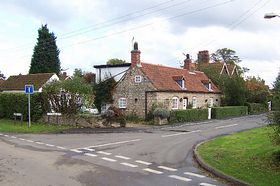 Thatched Cottage in the centre of Appleby (c) Fred Roberts via Wikimedia Commons.
Old Stone Cottages Churchside Appleby (c) David Wright via Wikimedia Commons
Waiting For a Train Appleby level crossing (c) Jonathan Billinger via Wikimedia Commons