The Beverley Guildhall is a Grade One listed historic seat of civic governance featuring an 18th century court room (magnificently decorated by an ornate plaster ceiling by Guiseppe Cortese) and an 18th century Magistrates room.
The building also contains a Victorian Mayor's parlour, a sandstone portico modelled on the Temple of Apollo at Delos and two exhibition rooms exploring the history of Beverley and its surroundings.
The Guildhall is open Fridays only, 10am - 4pm, see local press and tourist information office for details of events and special openings.
Two attendants are on hand to give guided tours.
Guided tours can also be arranged at other times for a small fee. Please telephone for details.
Share this article




More Pictures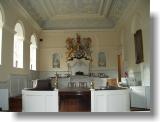 Directions
Beverley Guildhall Postcode for SatNav: HU17 9XX
Contact
Tel:

+44 (0) 1482 392 783

Email: