St Mary's Guildhall has stood at the heart of Coventry for over 650 years and witnessed events of both local and national importance. It served as the centre of King Henry VI's court during The Wars of the Roses and as a prison to Mary Queen of Scots. William Shakespeare is thought to have staged plays here and writer George Elliot, who knew the hall well, used it as the setting for a scene in one of her novels.
Its kitchens have prepared banquets for visiting monarchs and have fed starving weavers. It has been the good-humoured starting point for the famous Godiva Processions and been damaged in violent election riots. It was scarred by, but survived, the Blitz of Coventry during the Second World War and it continues to this day to welcome visitors from all over the world.
The entrance to St Mary's Hall is on Bayley Lane which runs on the south side of the ruins of the 'old' Coventry Cathedral. The outer Porch, with its 15th century gates leads through to a Courtyard. From the Courtyard, visitors enter the small 'Cloister' and climb the 15th century staircase to a Gallery. This leads directly into the impressive Great Hall.
General Information:
Partly accessible to people with wheelchairs
Stairlift to the Great Hall - staff can give assistance if required
Share this article




More Pictures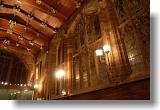 Directions
St Marys Guildhall Postcode for SatNav: CV1 5RN
Contact
Tel:

+44 (0)2476 832 381

Fax:

+44 (0)2476 832 410

Web: