Croft Circuit
Since its redevelopment in 1996 Croft Circuit has endeavoured to bring the Creme de la Creme of British Motorsport to North East and North Yorkshire spectators. Every year there has been new aspects to Croft, be it a control tower and pit garages, touring cars or Superbikes, the facilities and racing just gets better.
Touring Cars
With television coverage spanning more than 100 countries, the Auto Trader British Touring Car Championship has become one of the world's top-rated touring car series. Croft are proud that this prestigious series makes an annual visit to the circuit.
F3 & TVR
Formula 3 has a strong tradition in Britain and dates back to the 1950s with engine sizes growing over the decades. The first
major change in 20 years occurred in 1997 with an increase in power of around 35 bhp giving us faster cars and closer competition. Known as the breeding ground for future Formula 1 stars, the Autosport British Formula 3 Championship is a must for single seater fans. True British racing comes in the form of the TVR Marque. Frequently voted the best all round sports car in the world, the
Blackpool
based TVR is something Britain can be proud of.
GT
Precision driving Endurance Technology at its best. Speed and plenty of it are the ingredients that make the Privilege Insurance GT Championship so popular with drivers and spectators alike. Introduced in 1993, the GT Championship fills the gap between one-make sports car championships in the UK and top-level international sports car racing. Cars are based on two-door closed GT cars built for road use, prepared to international regulations.
2 Wheel Action
Whether it's 125GP, 250GP, 600s, sidecars and production classes there is something for everyone's tastes at Croft Circuit.
Share this article




More Pictures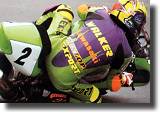 Directions
Travelling south by road: Take junct 58 off the A1(M) signed Darlington. Follow this route through Darlington, then follow the A167 towards Northallerton. Croft Circuit is signposted approximately 2 miles south of Croft on Tees.
Travelling North by Road: Take junct 57 off the A1(M) to Darlington. At the second roundabout take the 5th exit - signposted Northallerton A167 - Continue on this route as above.
Travelling by Rail The nearest station to Croft is Darlington which is 4 miles to the north.
Travelling by Bus Details of bus services to Darlington are available from National Express on +44 (0)9908 080 080.
Travelling by Air The nearest airport to Croft Circuit is Teeside, approximately 8 miles away. Light aircraft landing facilities are available at Croft Circuit by prior arrangement only. Details of the airstrip will be disclosed on request.
Croft Circuit Postcode for SatNav: DL2 2PN
Contact
Tel:

+44 (0)1325 721 815

Fax:

+44 (0)1325 721 819

Web: