Things to do in Starcross, Devon
Starcross main street, looking towards Powderham Castle © Irene Swindell
Starcross is a small, mainly commuter, village on the estuary of the River Exe, about eight miles south of Exeter. Because it is situated on the A379 road heading towards Torbay and on the main railway line from Exeter to Penzance it's the sort of place that many pass through without really noticing.
It is quite a characterful little village though with it's river mouth location being popular with "in-the-know" boaty-types and has a reputation as a friendly and welcoming mooring and the local shops are ideal for re-provisioning.
One of it's unique claims to fame is that it is the home of the best preserved pumping stations of Brunel's short-lived experimental "Atmospheric Railway".
Another of Starcross's attractions is it's ferry across the river to, and from, the seaside town of Exmouth. This is a seasonal foot-passenger service (which as part of the National Cycle Route ' also accommodates bicycles) and the unhurried 15-'0 minute crossing allows you to enjoy the estuary's scenery and wildlife.
About a mile and a half up the road is Powderham Castle, the 600 year-old stately home of the current Earl of Devon, where you can enjoy a guided tour of the castle and its grounds, including a deer park safari.
Last, but not least, there's four pubs in the immediate vicinity; two in the village itself and two more just round the corner (a pleasant 10 minute walk) at the harbour village of Cockwood. All four are hospitable, offer good-value home-cooked food, are family-friendly and a serve a decent pint of beer.
Description by John Gayton
Share this page




Images of Starcross
Starcross ferry pier in foreground and River Exe © Irene Swindell
Starcross railway station, Brunel Tower and River Exe
Starcross ferry pier and River Exe © Irene Swindell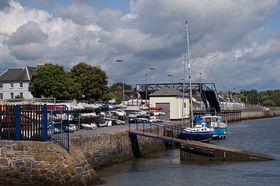 Starcross railway bridge and Starcross Fishing and Cruising Club © Irene Swindell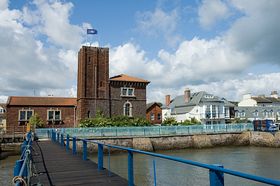 Brunel Tower from Starcross ferry pier © Irene Swindell
Starcross railway bridge and main street in background © Irene Swindell