Things to do in Smarden, Kent
Gillets Farm Oast, Water Lane © Laura Hawken
Smarden is a wonderful place to live and to visit. It is a beautiful Kentish weavers' village with around 200 buildings of architectural and historical note dating from the '4th Century. St Michael's church of the Archangel in the centre of the village is also known as the Barn of Kent because of its unusually broad scissor-beamed roof, unsupported by pillars. Walking through the centre of the village gives a reflective sense of historic charm and timelessness. Visitors can purchase a booklet produced by the local history society for just ' (from any of the 3 shops or 3 pubs), that gives a few sentences about many of the timber framed houses.
Yes, Smarden has a Post Office, a butchers and an art gallery. The Post Office also stocks a range of grocery, stationery and confectionary items. The butcher also provides fruit, vegetables, bakery and dairy items. The art gallery holds a different exhibition each month, with the annual wearable art and Christmas shows being popular features. The Chequers Inn provides accommodation and restaurants. The nearby Flying Horse, Smarden Bell Inn and Bethersden Bull Inn also serve good food. B&B and holiday lets are available in several historic and oast houses. So if you come for a weekend break, all your needs can be well catered for.
Leeds and Bodiam Castles, Sissinghurst Castle Gardens, Great Dixter Gardens, Godinton House Gardens, Biddenden Vineyard, Headcorn Air Museum, The Kent & East Sussex Steam Train, several woodland walks and the new Kino Digital Cinema are all within easy reach of Smarden.
Smarden also has a vibrant and active community life. In the past 5 years, the villagers raised over 600,000 to build a new village hall, which opened in January 2007. The hall now hosts a variety of village activities including a very modern IT centre, local drama productions, regular music events, dance classes, yoga and pilates classes, toddlers groups, gardening society, quilting and embroidery groups, history society, heritage centre, etc.
During the week you will hear the laughter of children at the primary school. On Wednesdays and Sundays you will see cricket being played on the village green. There are also tennis courts and a safely enclosed children's playground. Most days you will see horses being ridden through the village. On Wednesday evenings you can hear the bell ringers practicing. Weddings are frequently held at St Michael's, as people want to add the exceptional charm that Smarden offers to the memories of their special day. Each April, the Beult River that runs through the village hosts the quirky annual duck race when most of the village residents pack onto the town bridge and along the river banks to cheer on the winners. These examples give a flavour of village life that you can participate in and enjoy when you are here - - we look forward to welcoming you.
Description by Laura Hawken
Share this page




Images of Smarden
Arial view of Smarden © Laura Hawken
Smarden when it is snowing © Laura Hawken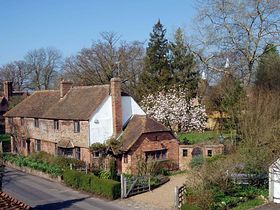 Waterside House, Water Lane with oast houses in background © Laura Hawken
St Michael's Church of the Archangel in spring © Laura Hawken
The Street in May, Smarden © Laura Hawken
Wisteria Cottage in spring © Laura Hawken