Things to do in Sedgeford, Norfolk
Fring Road, Sedgeford © Christine Wilson
Sedgeford with just 600 inhabitants has a reputation for being one of the friendliest villages in Norfolk. Located within an area often refered to as "High Norfolk" the landscape is rolling with picturesque woodlands and hills. Unsuprisingly it is situated within a designated Area of Outstanding Natural Beauty but also has a well documented history going back to Anglo-Saxon times.
A recently discovered torque from the time of Boudicea, the "Sedgeford Portrait" featuring Pocahontas and the old Cromwellian armoury at Magazine, all add to its rich heritage.
Leafy Peddars Way, the ancient Roman road is very popular with walkers leading directly to the coastal path and from the higher vantage points overlooking the village you can witness breath-taking crimson sunsets over the Wash.
There is a local pub, a number of upmarket B&B's as well as a fitness and tennis centre, sandy beaches at Holme, Brancaster and Thornham are just a few minutes away.
Description by Jonathan Barber
Share this page




Images of Sedgeford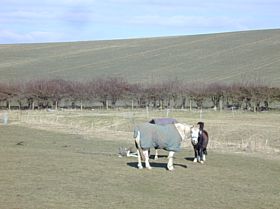 Fring Road, Sedgeford © Christine Wilson