Things to do in March, Cambridgeshire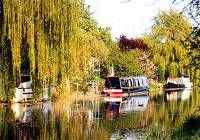 March, once an island surrounded by marshes is now a pleasant market town ideal for spending a relaxing day.
St. Wendreda's Church to the south of the town is renowned for its spectacular double hammer-beam roof, featuring 120 carved angels, described by the late John Betjemin as 'worth cycling 40 miles in a head wind to see'.
March Museum in the High Street has fascinating displays showing life in the late 19th and early 20th century.
The meandering old course of the River Nene, part of the 200 mile long Fens Waterway system winds its way through the town centre on its way
to Ely.
Alongside the river, the West End is perfect for a stroll, with old cottages and attractive gardens running down to the waterside.
March is a convenient stopover for boat users, with moorings in the town centre close to the shops, the riverside park and the leisure centre.
The town offers a good range of shops, free and plentiful parking and hospitable pubs and hotels.
Stonea Camp, the lowest hill fort in Britain, on the outskirts of March, is an Iron Age military defence used unsuccessfully against the Romans.
Its banks and ditch were restored in 1991, following archaeological excavations.
Share this page