Things to do in Crowland, Lincolnshire
Crowland lies on the southern border of Lincolnshire and is famous for medieval Crowland Abbey and the curious triangular bridge.
Crowland Abbey - remains of a medieval abbey with the well preserved north aisle still fulfilling its role as Crowland's parish church.
Trinity Bridge - the triangular bridge stands in the centre of Crowland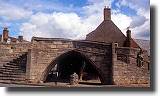 on dry land. Built between 1360 and 1390, it has three arches but one over arching structure.
Crowland Town and Riverside Walk - stroll along the banks of the River Welland or stop for a picnic by the lake. Discover the miles of footpaths and the secret wildlife of the Fens.
Share this page