Things to do in Downham Market, Norfolk




South of King's Lynn on the edge of the Fens is Downham Market, a small hillside town dating back to Saxon times, and one of Norfolk's oldest market towns. Charles I came to Downham after the battle of Naseby, it is said. At Denver Mill near Downham Market recent restoration work means the magnificent building is now open for visitors to enjoy. Other examples of interesting windmills can be seen at
Great Bircham and Burnham Overy.
To the East of Downham Market is the 15th century Oxburhg Hall a magnificent moated manor house, with an 80 foot Tudor gatehouse. Here you can see an original Priest's hole and embroidery by Mary Queen of Scots.
North east of Downham Market is the 12th century Castle Acre Priory, providing a spectacular effect as the elaborate great west front of the church first comes into view. The walled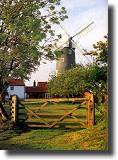 herb garden and prior's lodging give an insight into the life of this powerful priory, and Castle Acre Village, with its ruined Norman castle, is also worth a visit.
Further north is Castle Rising: once home to Queen Isabella, the "She-Wolf of France", who plotted the murder of her husband, Edward II. The huge 12th century keep stands in the centre of massive earthworks, and there are wonderful views from the ramparts.
Two fascinating sites
recall even earlier communities. Grimes graves - not a burial ground as the name suggests - is the site of 4,000 year-old flint excavations, through which Neolithic miners crawled to chip out flint for their tools and weapons.
At Cockley Cley an Iceni village has been recreated on what is believed to be the site of a first century village dating from the time of Boudicca, the East Anglian Iceni Queen who challenged the Roman army.
Share this page




* Distances shown are in a direct line. Distances by road will be longer.