Things To Do in Tanworth, Warwickshire
---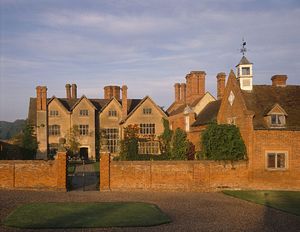 Packwood House is well worth visiting. Originally built in the 16th Century for a Warwickshire farming family, many of its original features had been lost, but a major programme of work between the wars has seen the Tudor interiors restored.
Packwood House is also home to a superb collection of Tudor furniture and Textiles.
Visitors can also enjoy the superb gardens with their famous yews, before heading to the cafe for refreshments.
About 4 miles away.
[Find out more...]
The beautiful medieval moated manor house of Baddesley Clinton Hall is over 500 years old, and was in the care of 12 generations of the the Ferrers family, before it was taken on by the National Trust in 1940.
The hidden secrets of the house are fascinating, and the gardens and woodland are beautiful.
You can round off your visit to with a well-earned snack at the Barn Restaurant which serves locally-sourced food all day.
About 6 miles away.
[Find out more...]
Visit Mary Arden's House in Wilmcote - a farm which was the childhood home of Shakespeare's mother.
The farm accurately re-creates life on a Tudor farm, so there are lots of animals to meet, including some rare breeds.
Enjoy displays of the ancient art of falconry, or at peak times you can try your hand at archery.
There's an adventure playground for the kids and a cafe when you're ready for some refreshments.
About 7 miles away.
[Find out more...]
Kenilworth Castle is one of England's most historic sites, and a great place for a day out.
Originally built as a Norman Castle (the castle keep still dominates), Kenilworth was upgraded by Robert Dudley, Earl of Leicester, so that he could entertain Queen Elizabeth I in luxurious surroundings.
Today you can walk in the Elizabethan Gardens, see the Great Hall, Castle Keep and Leicester's Gatehouse, and even climb the tower, before visiting the Stables Tearoom for tea and cakes.
About 9 miles away.
[Find out more...]
It is almost 10 miles from Tanworth to Anne Hathaway's cottage in Shottery, but it is well worth the journey to see this authentic cottage.
Anne Hathaway lived in the cottage in her childhood and youth, and this is where William Shakespeare came, across the fields from Stratford, to woo her.
The house remained in the Hathaway family until the late 19th Century when it was bought by the Shakespeare Birthplace Trust.
Perhaps this is why the house is so authentic - it is furnished with period furniture and has the original wood panelling and open hearth in the living room.
About 9 miles away.
[Find out more...]
In nearby Stratford-upon-Avon you'll find Shakespeare's Birthplace - the childhood home of England's greatest playwright.
Shakespeare's time in the house is brought to life by costumed guides with stories from the great man's youth.
You'll also experience some of the highlights of his work performed by resident actors.
See Shakespeare's fathers glove workshop, the room where William was born, and the window where famous authors have etched their names in tribute to Stratford-upon-Avon's most famous son.
About 10 miles away.
[Find out more...]
Share this page