Things to do in Chalfont St. Giles, Buckinghamshire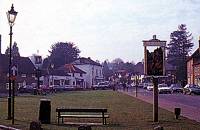 Chalfont St. Giles is a small and very historic village, famous for its connections with John Milton, who lived here whilst fleeing from the Plague of London.
His cottage is open to the public. It was here that he completed 'Paradise Lost' and the sequel 'Paradise Regained'.
The Vache, an Elizabethan mansion, was once home to friends of Captain Cook who erected a monument to him in the grounds.
The Pheasant Inn in the village dates from the 16th century and was frequented by Oliver Cromwell and his troops during the Civil War.
Many people will recognise the village as 'Walmington-on-Sea' in the Dad's Army film.
Visit Jordans Meeting House, built in 1688, it is the most famous of the Quaker Meeting Houses.
In the old burial ground is the grave of William Penn.
Share this page