Things to do in High Wycombe, Buckinghamshire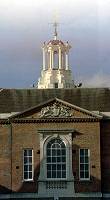 High Wycombe is surrounded by some of the loveliest countryside in southern England. Situated in a deep valley, in the heart of the Chilterns, High Wycombe is the largest town in Buckinghamshire, having grown up during the 18th and 19th centuries around the furniture industry, and was once known as 'the furniture capital of England.'
Its wide, typically Georgian High Street, is dominated at its western end by the Little Market House, built by Robert Adam and known affectionately as 'The Pepperpot'. Opposite is the handsome arcaded Guildhall, where a unique annual ceremony
is enacted thought to date from medieval times - the 'weighing-in' of the Mayor and Charter Trustees to determine if they have grown fat at the ratepayers' expense.
Behind the Little Market House, the Parish Church was founded by the Normans and enlarged to almost its present day size in the 12th century. It is a very impressive building, the largest church in the county and contains many interesting monuments and memorials.
High Wycombe Museum is housed in an historic 18th century building surrounded by peaceful gardens. Inside, the displays explore the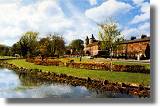 history of High Wycombe, focusing on chairs and chair making. There are interactive displays, changing temporary exhibitions and a shop. The museum is also home to the Regional Furniture Centre.
To the east of the town there is a wide expanse of grassland, called 'The Rye'. An artificial lake, bounded by hanging beech woods, which encompass a Nature Trail, is used for fishing and during the summer months, for boating. 1.5 miles from the town centre is Hughenden Manor Park, this Victorian Gothic house was the home of former Prime Minister
Benjamin Disraeili. The house is open seasonally and there is free admission to the park all year.
Wycombe Air Park, 2 miles south of the town centre is home to the Blue Max Museum a collection of historic flying machines which have starred in many films.
High Wycombe is the home of Wycombe Swan Theatre, one of the finest theatres outside London. The programme is very varied, with a wide spectrum of theatrical production - ballet, pop, classical theatre, modern theatre, variety, one - man shows and opera. Tel: +44 (0) 1494 512 000
Share this page




Video
Directions

To the south, the M40 connects the town to London, the M25 and Heathrow Airport, while to the north the M40 leads to Birmingham and the Midlands. There is a fast rail link to London (45 minutes) and half-hourly trains to Warwick, Stratford-upon-Avon and Birmingham. Oxford is under an hour away by coach.