Things to do in Broadway, Worcestershire
The show village of Broadway lies at the foot of the Cotswold Edge. Renowned the world over for its picturesque beauty, Broadway has been welcoming tourists since the 19th century.
The long, wide High Street, bordered by neat greens, is flanked on either side by a mixture of cottages and larger houses with fine architecture, mainly built with the local golden Cotswold Stone.
One of the town's oldest and best known buildings
is The Lygon Arms Hotel, originally known as the White Hart.
This house gave shelter, at different times, during the troubled years of the mid 17th century, to Charles Ist and Oliver Cromwell.
On the Snowshill Road outside the village, passed the 'new' church is the old church of St. Eadburgha's lying in a quiet valley - it is a cruciform church with a central tower and an unspoiled interior.
Although Broadway is so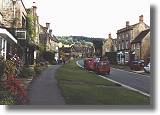 popular with tourists, it is quite unspoiled and uncommercialised; you will be delighted by the high quality of the small specialist shops, galleries and antique shops in the High Street.
There is a selection of excellent Hotels, Restaurants and teashops all housed in the intriguing and lovely old buildings that go to make Broadway unique.
Share this page