Snowshill Manor




Few places are more historic than the lovely Tudor buildings which make up Snowshill manor. Beautifully built in local Cotswold stone, the existing modest house was built between the
15th century
and the
18th century
. It is set on a hillside above the Vale of
Evesham
and enjoys spectacular views of the Cotswold countryside.
Snowshill Manor fell under the jurisdiction of Winchcombe Abbey from 821 until the dissolution of monasteries in 1539. The manor was then given by
Henry VIII
to his wife at that time, Catherine Parr. It was extended in Elizabethan times and the old wood-timbered interior is now a fascinating maze of passages and barrel vaults.
By the turn of the
20th century
the
His eccentric appearance with bobbed hair,
18th century
stockings and buckled shoes amused the locals but he was well liked.
He employed a team of 28 workmen who stayed in the attic until ghostly sightings sent some workmen on their way. The belief continues that the house is haunted by one of the Benedictine monks of Winchcombe Abbey.
The room shown to visitors as Ann's Room also has some interesting supernatural tales relating to a young heiress who was forced to enter into marriage with one of the servants. Her unhappy ghost is also said to roam the house.
During his time at Snowshill Manor, Wade indulged in his passion for collecting. His wonderful artifacts include suits of Samurai armour, antique toys, clocks and curiosities which are now on display in the house and outbuildings. It is one of the most eclectic collections in the care of the
National Trust
and includes 2000 costumes and 22,000 other objects, from cow bells and butter stamps to musical instruments.
The delightful gardens at Snowshill were planned by M H Baillie-Scott around 1920 and he cleverly created terraces in his notable
Arts and Crafts
style where the old farmyard had been. The intimate garden, restored ponds and farmyard barns offer plenty of quiet nooks to sit and enjoy the harmonious plantings.
Charles Pagett Wade died in 1956 and is buried in the local village churchyard alongside his mother and sisters. He gave his beloved Snowshill Manor to the National Trust in 1951
Share this article




More Pictures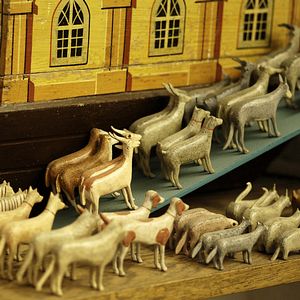 Directions
By Bus
Castleways 559, Evesham-Broadway, then 2½ miles uphill

Cycling
View local cycle routes on the National Cycle Network website

By road
2½ miles south west of Broadway; turn from A44 Broadway bypass into Broadway village; at green turn right uphill to Snowshill

By train
Moreton-in-Marsh 7 miles, Evesham 8 miles

On foot
Cotswold Way within ¾ mile

Ordnance survey reference
150:SP096339
Snowshill Manor Postcode for SatNav: WR12 7JU
Contact
Tel:

01386 852410

Fax:

01386 842822

Email:

Web: