Things to do in Ashton under Hill, Worcestershire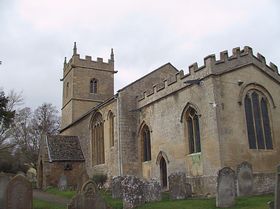 St Barbara's © Mark Baldwyn
Nestled on the slopes of Bredon Hill, the rural village of Ashton-under-Hill has much to offer for the huge variety of people who inhabit and visit it.
A traditional English village, our community boasts The Star - the village public house, a tennis court and playground, as well as numerous cricket matches throughout the summer season.
Annual events include the village fete, barn dance and open gardens.
Not to mention the slightly more obscure New Year's Day Kart Race, which saw children and adults alike racing down the village's main road at stupendous speeds in home-made manual go-karts.
A few accidents aside, the race proved to be a huge success with most of the village (whether complete with alcohol-induced headaches or not) turning out to watch.
In 2006, following a survey conducted by the Village Plan Steering Group, an official copy of the 2006 Ashton-under-Hill Village Plan was produced and distributed to the entire village.
This booklet, as well as giving village demographics and statistics, (for example the population of Ashton-under-Hill was 743 with 51.4% being male), outlined the strategies for improving Ashton-under-Hill both environmentally and socially.
It is this desire by almost all of the inhabitants of Ashton to improve our village, that ensures the preservation of housing, public areas and facilities, as well as our traditional values.
Perhaps the most attractive feature of Ashton-under-Hill is its access to beautiful walks on Bredon Hill.
A two-hour walk from the village, up the variably steep and gradual inclines, across flower and wildlife-strewn fields and along well-worn footpaths, lies Parson's Folly.
A tower on the Western summit of the hill, the folly was built in the remains of an Iron Age fort in the 18th century to increase the height of Bredon Hill to 1,000 feet.
The hill is etched with public footpaths and bridleways allowing for cyclists and horse-riders, as well as walkers and their canine companions, to enjoy the spectacular views over the surrounding area.
If hiking isn't to your taste, there are regular buses into the nearby towns of both Evesham (6 miles) and Pershore (8 miles), where there is an abundance of shops to make up for the lack of them in Ashton.
The village post office provides greetings cards, stamps and such like, and Rails End Nursery provides the village with tulips, lilies and begonias throughout the gardening season.
Another site of beauty, although this time architectural, is the village church, St Barbara's.
Home to weddings, christenings and numerous seasonal religious festivities, the church boasts magnificent stained-glass windows and a tenderly maintained nave.
Whether like myself you are an inhabitant of Ashton-under-Hill, or one of our many visitors, most would agree that our village is one of a kind, with plenty of activities for all age groups, and, failing that, stunning walks through woods and fields, which have provided inspiration for many a creative activity.
Description by Rachael Sellick, life-long inhabitant of Ashton-under-Hill
Share this page