A Short Break in London
Taking a short break in London is one of the most popular long weekend and city break options going. London is universally held to be one of the most exciting, must-visit cities in the world, and with little wonder when one stops to consider the history and vibrancy of this, the capital city of Britain.
A much Hackneyed phrase is that there's something for everyone, but for those planning a short break in London, the good news is that it's absolutely true where this city's concerned.
From world class shopping to cutting edge culture and entertainment to incredibly rich history and world famous landmarks, it's all here and more.

Beautiful parks and avenues abound and contrast with the hectic pace of life in this cosmopolitan metropolis. The beautiful, majestic setting of South Kensington with its museums contrasts with the hubbub of London's ultra-power financial district, the Square Mile, or City.

Buildings like Lloyds of London, the Barbican and the Gherkin live harmoniously along side architectural greats like St. Paul's Cathedral, the Tower of London, the Houses of Parliament and Buckingham Palace. This is a great metaphor for London's possession of a thoroughly modern outlook, while still being perfectly in touch with its long and illustrious past.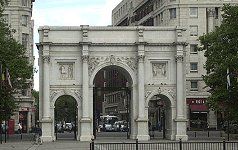 Necessarily, a short break in London tends to involve either a 'best of' overview of what's on offer, or a more in depth break planned around a handful of activities and attractions, which can be enjoyed in more depth than when taking in a flavour of many famous locations.
Regardless of the type of short break in London you're planning, there are certain core elements which will be the same. Probably the biggest of those is getting about. Luckily, London is possessed of a tremendous underground tube system.

Just about every guide or streetmap you buy will have a map of the London tube in the back. The whole system is reliable and easy to use, and the map is incredibly simple to understand. It's relatively safe too, though travellers are advised to be wary of pickpockets in large crowds, and of being alone on the system, especially at night.
Provisos aside, the Tube is by far the best way to get around London if you've a reasonable distance to go, though licenced taxis are widely available too, as are buses. The ubiquitous London Black Cabs can be flagged down from the side of the road, or queued for at taxi ranks. Walking is a definite option though, especially in the centre.
Share this article