Pleasure Island Theme Park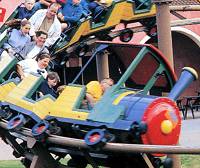 Pleasure Island is now closed to the public.
Pleasure Island is packed with fun, thrills and spills! Whether its Dad surging on the Hyper Blaster or Mum grooving to the Musical Time Machine a fantastic day out is guaranteed for all.
White Knuckle Rides
Feel the adrenaline rush as you are blasted 90 feet into hyper-space with a G-force of 3, then hover precariously before crashing back to earth. But there is no escape....... Like a recurring nightmare, you are hurled back up again before finally plummeting down to terra firma. Its hyper deadly, its hyper scary, its the Hyper Blaster. If you dare to set foot in White Knuckle Valley, be warned. The bone crunching boomerang sends fear through the most hardened terror fiends. Adrenaline addicts will get their kicks plunging and spinning on the lethal Terror Rack. And for those who still crave a fix, let the nerve shattering Crazy Loop spiral you into complete oblivion.
Fun for All the Family
Check out the 105ft mega-gravity-defying Para Tower with its spectacular free-fall to earth. Hang on to your cotton pickin' hats as the huge Wild West Wagon Wheel scoops you off the ground, or 'float' 100 feet in the air on the awesome Condor, then let off steam on the Mini Train. If its music you're after boogie on down to the new Time Machine and strut your stuff to four decades of hits with jukebox and live cabaret.
Safe Play for Tots
Tinkaboo Town is a dream come true for tots. A candy inspired playworld with own sweet shop!

Additional Information:
Food available and picnic areas
Disabled toilets
Baby changing
Free Parking
Dogs on lead
Telephone
Height restrictions - some rides have minimum height restrictions for safety
Share this article




Directions
Pleasure Island Theme Park Postcode for SatNav: DN35 0PL