Things to do in Staple Hill, Gloucestershire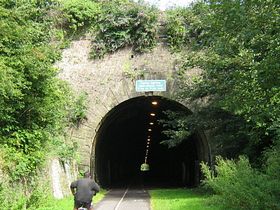 Staple Hill Tunnel & Cycle Path © John Dalgleish
Staple Hill is a suburb of Bristol which comes under the administrative control of the South Gloucestershire Local Authority.
The strange name 'Staple Hill' may derive from the old English word 'steap' meaning 'steep' but it is more likely to have described a long-lost pillar, post or standing stone - known as 'stapol,' (or staple).
Visitors can expect to see a lively town with an old fashioned High Street including a butcher, baker, grocer, pubs, Methodist church typical of the south west, bookshop, fishmonger, jeweller, cobbler/blacksmith, bike shop etc. The architecture is largely Victorian with ornate roof ridges and eaves, attractive decorative brickwork and architectural features in stonemasonry. The High Street is broad - trams originally ran along its length.
There are festival events twice each year known as "Christmas on the Hill" and "Summer on the Hill" during which fancy-dress parades are held with music, floats, treasure hunts and entertainment.
Parking facilities are free and more modern local facilities include a sports-centre & swimming pool, better than average schools, supermarkets etc.
Description by John Dalgleish
Share this page