Things to do in St. Margaret's at Cliffe, Kent
St Margaret's at Cliffe is situated on the southeast coast of England, between Dover and Deal.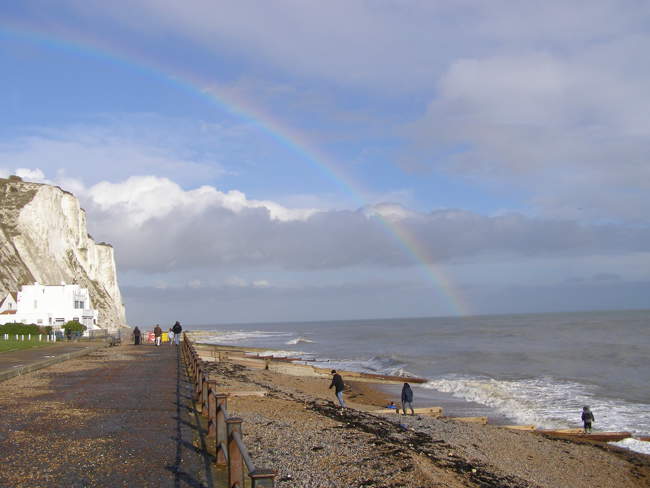 The community of St Margaret's at Cliffe is spread over rural Kent farmland down to the coast, and the actual village is about 2 miles (3 km) inland, a pleasant stroll from the coast and St Margaret's Bay, which is located at the foot of the white chalk cliffs.
The quiet rural scenery makes this the perfect place to enjoy a peaceful and relaxing break, yet within easy reach of nearby Kent towns.
It is the perfect holiday spot for walkers, cyclists, bird-spotters and families looking for a simple vacation with friendly local village amenities.
The charming village has several local shops, a 12th century Parish church, Village Hall, Post office and a number of pubs which offer good home-cooked food and friendly banter.
Beach
The pleasant beach is a mix of sand, shingle and pebbles, but offers many happy hours for children to play, and adults to walk along the raised promenade.
The coastal path leads to the famous White Cliffs of Dover, a National Trust walk through unspoilt farmland.
The stunning English Channel views offer the possibility of spotting all types of ships, ferries and fishing boats which ply these waters.
The strategic position led to this historic community being evacuated during World War 2 to allow military personnel to move in.
Several guns were positioned at St Margaret's including two ex-navy guns from the HMS King George V. They were nicknamed "Winnie" and "Pooh".
Wooden Gun
Local legend has it that a wooden dummy gun was placed on the cliff top, but it did not fool the Germans, who dropped a wooden dummy bomb!
A more realistic live bomb hit the Parish Church and destroyed a window dedicated to John Knott, the lighthouse keeper of the nearby South Foreland Lighthouse.
The Lighthouse also goes down in history as the place where Marconi transmitted his first radio broadcast to France.
The beach at St Margaret's at Cliffe is famous for being the closest point to France and is consequently where Channel swimmers begin their marathon 21-mile swim.
The white chalk cliffs above the bay are said to be the first place the sun reaches each morning on mainland Britain.
Famous Residents
The picturesque location drew several well-known people to build holiday homes at St Margaret's, including actor, Peter Ustinov.
His clifftop residence is now owned by actress Miriam Margolyes, an active member of the local community.
The two cottages at the end of the beach were owned by Noel Coward and Ian Fleming, who both enjoyed the sea views and walks in this tranquil area.
St Margaret's at Cliffe has an historic smock windmill which was built in 1929 to generate electricity.
It was the last windmill ever to be built in Kent. The three-storey structure is a local landmark with its four traditional sails and is now used as residential accommodation.
Days Out
The surrounding area offers plenty of things to see and do. Canterbury is a popular day out with its Cathedral, museums and shops, just 17 miles away.
Dover has several attractions including the Roman Painted House, Dover Castle, Deal Castle and Walmer Castle.
The Pines Garden and Goodnestone Park Gardens are well worth a visit for their spring and summer colour.
With watersports and fishing in the area and a host of cycle routes, St Margaret's at Cliffe is an idyllic place to visit and take time out to relax and be rejuvenated.
Share this page