Things To Do in Kenilworth, Warwickshire
---
A visit to Kenilworth Castle is like stepping back in time.
Imagine yourself transported to Tudor times when the Earl of Leicester, Robert Dudley, entertained Queen Elizabeth I in luxury and splendour.
As well as exploring the castle keep, you can wander through the exquisite Elizbethan Gardens, admire Leicester's Gatehouse and even climb the tower for the first time in more than 300 years.
After that you'll be ready to visit the Stables Tearoom for a cup of tea and a bite to eat.
About 2 miles away.
[Find out more...]
The Collegiate Parish Church of St Mary in nearby Warwick is well worth a visit.
As well as its wonderful gothic architecture, there's the monument to Fulke Greville - the poet who some believe actually wrote Shakespeare's plays, and the remarkable Beauchamp Chapel.
If you can visit on Wednesdays or Fridays at 5:30pm you'll hear the church's renowned choir singing at Evensong - an unforgettable experience.
About 5 miles away.
[Find out more...]
Warwick Castle is one of the UK's top visitor attractions, so it's well worth seeing if you're in Kenilworth for a few days.
Whether you want to see the gruesome dungeons, admire the magnificent views from the towers, watch the falconry displays or see the wonderful state rooms, you're sure to have a wonderful time.
About 5 miles away.
[Find out more...]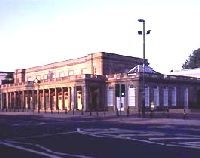 Not far from Kenilworth is Royal Leamington Spa - a town once famous for its spa baths.
At the heart of Leamington you'll find the Royal Pump Rooms where people from across the country would come to bathe in the health-giving spring waters.
In the 1990s the Royal Pump Rooms were re-developed and today they are home to a local museum, art gallery and a cafe.
About 5 miles away.
[Find out more...]
Baddesley Clinton Hall is a short distance from Kenilworth, and offers a great day out for everyone.
The 500 year old house is now owned by the National Trust, but was owned by 12 generations of the same family until 1940.
The medieval moat gives the castle a traditional fairy-tale air, and the house and its owners have a great many tales to tell!
There is also a sumptuous chapel, the Barn Restaurant and beautiful gardens to explore.
About 5 miles away.
[Find out more...]
Kenilworth Tourist Information
Kenilworth is a small town with an exceptionally good choice of restaurants and smaller shops. Enjoy excellent English, French, Chinese, Italian, Indian or even Thai cuisine. There are some good English pubs too!
At the top of the town, not far from Kenilworth's magnificent castle ruins, enjoy a relaxing walk in Abbey Fields and see the cottages of 'Little Virginia'- where Sir Walter Raleigh was thought to have planted some of the first potatoes he brought back from the New World.
Share this page