Things to do in Clungunford, Shropshire
Clungunford is a small village, witn no shops or pubs that is why it is a very peacefull place. The river clun runs through the village.
The nearest shops are at Craven Arms, with all the shops you need.
There is a lot of wild life to be seen, from wild mink, buzzards, a very wide range of birds including the red kite near Lientwardine just down the road.
Over the bridge is The Bird on the Rock Tea Rooms. There are a lot of good eating places in the other villages including Craven Arms
Description by Alan Peters
Share this page




Images of Clungunford
BIRD ON THE ROCK TEA ROOMS © Alan Peters
MERCERS COTTAGES these used to house the workers © Alan Peters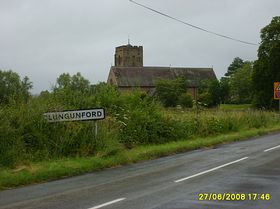 Coming into Clungunford © Alan Peters
Bridge over the River Clun © Alan Peters