Things to do in Bournemouth, Dorset
Internationally renowned for being one of Europe's most fashionable resorts, Bournemouth attracts millions of visitors of all ages and nationalities each year.
Seven miles of golden sand, vibrant nightlife, first-class attractions, beautiful gardens and summer festivals promise something for everyone.
Seven miles of golden sand and sheltered waters make Bournemouth a firm favourite for beach and activity holidays.
Perfect not only for families with its pioneering beach safety KidZone scheme and dog-free areas, Bournemouth's daily average of 7.7 hours of summer sunshine also attracts serious sun-worshippers of all ages and nationalities.
You will enjoy the award-winning parks at Bournemouth; why not spend a lazy summer afternoon listening to the band playing in the Pine Walk bandstand, or take a stroll
to the sub-tropical and Italianate gardens.
By day, the town is a shopper's paradise, a combination of high-street favourites and exclusive boutiques.
The fashionable new-look Square, with its mosaics and stylish camera Obscura centrepiece, gives an atmosphere of continental chic.
As the sun sets over the Victorian architecture, the nightlife in the vibrant and cosmopolitan town centre starts to hot up.
Bournemouth caters for all tastes from West End blockbusters, hilarious comedians, classical concerts and plays to some of the hottest nightclubs in the country.
Night owls will certainly be spoilt for choice.
Bournemouth's summer Festival For Families offers six weeks of free first-class entertainment for all ages.
For children, a Kids Free Entertain-tent and beach GameZones offer a packed
daily programme of activities.
Adults will enjoy the Musicmakers Festival which welcomes music groups from all over the world, Flowers by candlelight where the Lower gardens are transformed into a twinkling fairyland, and the spectacular Friday Night Fireworks.
Why not also visit the new indoor Wacky Warehouse play area, or discover the wonders of the world's oceans at the Oceanarium.
Bournemouth's beautiful beach and excellent leisure facilities make it a popular choice for sports enthusiasts and international sporting events.
The seafront plays host to a number of high profile events each year, including the UKOBA Powerboating Grand Prix, Beach volleyball Grand Prix and, for motoring enthusiasts, the first leg of the Mintex National Rally Championship.
The Liverpool Victoria UK Snooker championship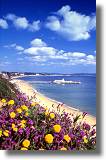 and Allis-Merlo Pro-Am Celebrity Golf tournament have also become regulars to Bournemouth.
Bournemouth's location makes it ideal for recreational sport as diverse as fishing, pony-trekking, cycling and water sports.
Bournemouth's central location on the south coast makes it an ideal base for exploring the surrounding cultural heritage and stunning countryside that complement its own coastal beauty.
To the west, the spectacular craggy rock formations of the Purbecks are the perfect setting for some breathtaking coastal walks.
Inland, picturesque Dorset villages nestle amid a rich literary heritage, inspiration for many of Thomas Hardy's classics.
Impressive historical ruins and stately homes stand proud in rolling countryside, whilst to the east, the ancient New Forest remains a symbol of traditional England.
Photographs courtesy of Bournemouth Tourism.
Whilst you're in Bournemouth, you'll probably want to take a break for some afternoon tea! Have a look here to find the Best Afternoon Tea in Bournemouth.
Share this page