Things to do in Boston, Lincolnshire
Boston - a port sited on the banks of the River Witham, whose medieval prosperity once challenged London. Boston has some fine historic buildings.
St. Botolphs - known as 'the Stump' because of its 272-foot octagonal tower, the tallest on any English parish church, and is a landmark for ships in The Wash.
The Stump can be seen for miles over the Fens and even into parts of Norfolk.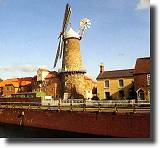 The church is on a stupendous scale and was mainly built during the 14th century, the interior has fine carvings and a magnificent roof.
St Botolph's contains memorials to the five Boston men who became Governors of Massachusetts.
The American town of Boston owes its names to the emigrants of the town, who sailed from Southampton in 1630.
Guildhall Museum - dating from 1450 it contains the original cells where William Bradford,
William Brewster and others, later known as the Pilgrim Fathers were imprisoned in 1607.
The Museum has an interactive computer simulation to show what life was like in the 1530s.
Maud Foster Windmill - built in 1819, this is the tallest working Windmill in England, and the mill now produces organic flour.
Blackfriars Arts Centre - live concerts, theatre, films and exhibitions are held at the centre, also a Sunday evening jazz club.
Share this page