Things to do in Alsager, Cheshire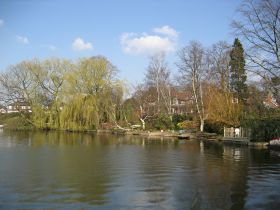 Alsager Mere © Phillippa Brown
Alsager is easily accessible by road and rail and is a small town on the Cheshire plain, surrounded by agricultural land, hamlets and small villages.
The town centre is located around the Civic Centre and Library buildings.
Alsager has a range of specialist shops and an outdoor weekly market is held in the main town centre car park.
There are 2 Anglican Churches, the Georgian Christ Church and the listed, late 19th century, Saint Mary Magdalene.
This church features a stained-glass window in memory of the 2 Goss brothers, killed in action on the Western Front in World War 1.
Their mother is also remembered, as the Goss family lived in Alsager and were leading pottery manufacturers.
There are 2 conservation areas in Alsager, which reflect the Victorian heritage of the town.
Tucked away with public viewing access to two sides is Alsager Mere. Nearby is Milton Gardens, the main park for Alsager and venue for the successful annual Alsager Carnival, which is held in June and attracts people from Alsager and the surrounding areas.
At the nearby campus of Manchester Metropolitan University is an Arts Centre which promotes various productions, open to the public.
Outdoor leisure activities include walking along the many local footpaths and the Trent and Mersey canal towpath.
There is a cycle path, forming part of the National Cycle Network, which passes around Alsager routed along the Salt Line and Merelake Way, former railway lines.
Description by Phillippa Brown
Share this page