Exmoor Owl and Hawk Centre.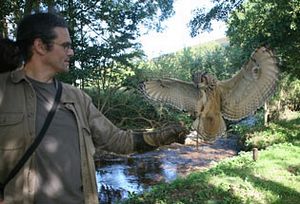 Exmoor Owl and Hawk Centre is a unique visitor attraction within Exmoor National Park where the animals come out to meet you. It is huge fun with interaction at every level. Handle, marvel, discover and even fly the birds for charity.
There are beautiful 15th century farmyards in a unique National Trust farm on the Holnicote Estate with wonderful views, landscaped gardens, herb gardens and herb products, wildlife ponds and nature trails. At many times of the year there are a number of different baby animals to feed and enjoy, and all of the animals are friendly and full of appeal.
The Flying Displays are dynamic and interactive, you can delight in the world of the trained bird of prey, and enjoy the owls being flown to your table, and be entertained by the acrobats of the hawks. We offer bird of prey and owl experiences of a lifetime, from one hour to a full day experience, in spectacular countryside.
Our unique and special Owl Show in our Medieval Barn is a 'must see', where the owls give an amazing display of natural behaviour in the protected environment away from the weather. Our afternoon Rainforest Display, aslo in the Barn, is second to none with two South American Rainforest owls flying against a backdrop of the Rainforest and its conservation.
Share this article




Directions
Just off the A39 at Allerford, between Minehead and Porlock, an hour from the M5 at Bridgwater, Taunton and Exeter, and on the 38 bus route from Minehead.
Only three and a half hours from London or Birmingham. One and a half hours from Bath, Bristol, or Exeter.
Exmoor Owl and Hawk Centre. Postcode for SatNav: TA24 8HJ
Contact
Tel:

+44 (0)1643 862 816

Email:

Web: