Things to do in Thirsk, North Yorkshire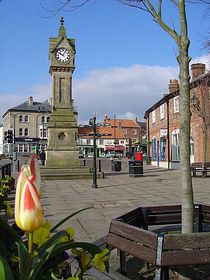 Town Square (c) Misterweiss Wikimedia Commons
The ancient market town of Thirsk is situated in North Yorkshire, in the area known as Hambleton. Thirsk and its adjoining neighbour Sowerby are perfectly located in what today is thought of as "Herriot Country". To the West of Thirsk is the Yorkshire Dales National Park and to the East, lies the North York Moors National Park.
Thirsk is what most people would consider to be a traditional Market town, with a cobbled market square, dating from Medieval times, the town clock is prominently placed overseeing the busy market place.
Thirsk was a mail coach posting stage in former years and has retained several inns and public houses from these times still providing food and drink to today's visitors.
The market square is surrounded with many shops, some of which still have quaint shop fronts helping to retain the old world charm of the town; market days are Monday and Saturday.
Thirsk offers a good choice of places to eat and drink, a variety of shops, branches of most banks as well as a library, museum, Tourist Information Centre and at Sowerby, which adjoins Thirsk, there is a cinema and a leisure centre.
The 15th century parish Church of St. Mary is a superb medieval church built between 1430 and 1480.
The church is built in Perpendicular Gothic style and is often referred to as the cathedral of North Yorkshire because of its 80 foot tower, its size and prominence.
Many visitors come to enjoy a day out at Thirsk Racecourse, which is one of the finest in Yorkshire. Racing takes place from April to September each year.
For many years now Thirsk and the surrounding countryside have been considered to be "Herriot Country", made famous world wide due to the writings of James Alfred Wight whose pen name was James Herriot. In 1940 he joined the veterinary practice of Donald Sinclair (Siegfreid Farnon in his books) and worked as a country Vet from the house and surgery at 23 Kirkgate Thirsk, which has been turned into the very popular tourist attraction "The World of James Herriot" centre.
It was not until 1970 that the first of the James Herriot books "If Only They Could Talk" was published and was received by the public with high acclaim. Several books based on his own experience as a country Vet followed and in 1979 came another bestseller "James Herriot's Yorkshire". Taking inspiration from these popular books two films were made as well as the much loved television series "All Creatures Great And Small".
Long before James Alfred Wight came to Thirsk the town was known as the birthplace of Thomas Lord. He was born in 1755 in Thirsk and later played cricket for Epsom and Middlesex. He is best remembered today as the founder of Lord's Cricket Ground.
Share this page




Images of Thirsk
Kirkgate North End (c) Gordon Hatton Wikimedia Commons
Thirsk Market Day (c) Gordon Hatton Wikimedia commons
James Herriot's Surgery (c) Wikimedia Commons
Blacksmith's Arms (c) David Rogers Wikimedia Commons
The Old Courthouse (c) Alan Fearon Wikimedia Commons
The Ritz Cinema (c) Gordon Hatton Wikimedia Commons